PR Newsletter September 2022
Hello Rotarians & Families, Guests & Visitors…
The opening month of Rotary just passed by like a flash!
We had a fun-filled and action-packed month – as expected in the Rodeos culture.
The opening month saw the arrival of our RI President Jennifer Jones to India. Our President Vidhya and RI Director Elect Raju shared some awesome moments with Jennifer and her husband – DG Elect Nick. To get a sneak peek into that – just glance through the Lakshya moments in the Rotary News which is definitely a must-watch.
Alongwith that, you would also enjoy reading some awesome projects of a pretty large scale launched by the clubs in South India. Having read that myself – I can vouch that they are nothing less than an inspiration!
Rtn Vivek Khandelwal | Director PR 2022-23 | RC Deonar
Our PR initiatives continue to march ahead with great visibility that came up in the Rotary News Plus of Aug '22 issue. The following projects got their share of visibility:
Yes We Can – Best Bus Initiative
Art for the Soul – An artist's initiative led by Ann Bhavana Kukreja
Seminar on burns prevention, first aid, and organ donation
Project Barsaat – Umbrella distribution at the Shahaji Nagar School
Little Roshni Malik – a beneficiary of the heart surgery celebrated her birthday for the 1st time
Our month remained action-packed also on our social channels. (Click on the social media links below, if you are not already following our page)
Our projects always resemble a healthy mix of quality and quantity, small and big, short-term impact to long-term impact – this is what uplifting lives mean to us!
It is time for us to walk you through the journey and live the moments that made the launch month of festivities a grand one.
To start with, here are some thoughts expressed by the Who's Who:
Thoughts from Past RI Director & Trustee Ashok Mahajan
Dear President Vidya Ji ,

It is said that well begun is half done or the first stroke is half the battle. I could not imagine a better beginning than what I have seen through your club bulletin. Believe you me I have gone through all the activities undertaken by your club under your leadership and was surprised by how you managed all these activities. Your club bulletin is a true window to make everyone know all that's happening in your club. Indeed I am impressed with your leadership. I am impressed with your communication skills, I am impressed with all the activities you have undertaken. I am impressed with your achievements. Well done Vidya Ji! Well done Rotary Club of Deonar. Looking forward to seeing the next issue of your club bulletin.

Regards,
Ashok Mahajan
Message from Rtn Vidyottama Prafull Sharma
Dear Vidhya and Vivek

Congratulations on bringing out a brilliant newsletter. What a wide coverage of all the wonderful things RC of Deonar is doing this year! Much thought has gone into the meticulous reporting of projects and events.

You began with aplomb at your wonderful installation ceremony, Vidhya. We are only in August and I hear about your club everywhere, not to miss the so-looked-forward-to forthcoming Onam celebrations. And your newsletter says that you are already receiving your third global grant. Wow.

I loved the interviews, Vivek. All of them. And did not miss out on the efforts you have put in each like the transcription running alongside or the pop-ups. Good thinking. I have seen you right since the time you were an alternate GSE member and how beautifully you have blossomed into a Rotarian.

With vibrant Vidhya's great leadership and out-of-the-box thinking on various projects and Vivek's editorial and media expertise, I am sure each issue will have substantial content to read. I wouldn't want to miss out on any of your newsletters.

Wishing Vidhya, Vivek, and the Club a vibrant year.

Vidyottama Prafull Sharma
Message from PDG Harjit Singh Talwar
Dear Vidhya,

Hearty congratulations to YOU & publication team of Deonar for bringing out this superlative newsletter 👍🏻

The contents are very informative & insightful, giving excellent & exhaustive coverage of events & projects, giving all recognition & credit to Rotarians 👏🏻

Am sure this will further strengthen the bonds within your club, giving them a sense of belonging & ownership, while generating excellent PR in the district & outside partners.

Kudos to the entire team behind this

PDG Harjit Singh Talwar
Club President – Vidhya Subramanian
I had a sneak peek into the August Club Bulletin before others got to see it. My first impression was just a BIG WOW. The 3 interviews were so well conducted. Every July Project has been very extensively covered. The pictorial depiction is wonderful. Thanks once again for a pleasurable reading experience
Past President – A V Suresh
Fabulous coverage Vivek and team. Great work done by the Rodeos. Keep shining and make a difference. Imagine Rotary
Inauguration of Bio-diversity Park at Chembur Children's Home (CCH), Mankhurd
The morning of Independence Day saw the culmination of 2 events i.e., Bhoomi pujan at the hands of Past RI Director & Past Trustee Ashok Mahajan jointly Guest of Honour Shri Dnyaneshwar Bodke alongwith our Club President Vidhya Subramanian in the midst of many other Past Presidents, Senior Rotarians, and distinguished guests.
Rtn Jhankar Gadkari played a key role in getting our Guest of Honour and Honorary Member – Shri Dnyaneshwar Bodke, Founder of Abhinav Farmers Club in addition to adding his own flavour to the event.
Then came the turn for one of our biggest projects – the impact of which will continue in the years ahead. The team inaugurated only the 1st phase of the project – Bhoomi Pujan of the Vegetable Garden. This location is quite unique with its large space and beautiful expanse.
The core objective is gardening, skill development, and opening up employment opportunities for orphaned children.
The total attendance for the event was in excess of 160 people including young students.
Our Chief Guest and Guest of Honour loved the entire concept and shared their opinions and views on how the future could unfold for them.
Our generous Past President Padma Kapoor distributed clothes.
The children were very happy at receiving a set of t-shirts and shorts. Each packet consisted of 2 t-shirts and 2 pairs of shorts for all the 120 inmate boys of the CCH and 120 Tees and shorts for the children were given at Bal Kalyan Nagri.
President Vidhya's daughter has agreed to give a generous donation of Rs.6,00,000 towards building a 'Butterfly Garden' at this site.
Thoughts from our Chief Guest – Ashok Mahajan
He was in awe of the place and was impressed with the project's potential. He also expressed his support by reaching out to the Who's Who in terms of getting help for our project financially.
Thoughts from our Guest of Honour – Shri Dnyaneshwar Bodke
He expressed his interest in giving employment to deserving children once they complete the training. The officials of Chembur Children's Home and the children were very happy that this project will help open new employment avenues for the children.
Rotary Pink Autos
On 16th August 2022, three Pink Auto rickshaws rolled out in Chembur. The first of the 20 women undergoing auto training, licensing, and loan processing. They were flagged off by the Dream Governor of District 3141, Rtn Rajendra Agarwal, District Avenue Director Dr Indumati Gopinathan, Dream President Sudhir Mehta & Alpha President Vidhya Subramanian, along with many Past & Present Rotary Presidents, Rotarians, and well-wishers. It was a sight of a mega fair, with everybody vying for their photos with the Pink Angels.
When RC Deonar's Vocational Director proposed a new initiative for Women Empowerment, no one imagined it to get such roaring support. The initiative was coined Pink Angels – to empower underprivileged women by training them in auto rickshaw driving and further help them in buying their own Pink Auto Rickshaw. With the imagery of 10 Pink Autos plying in and around Chembur, it was a promise not only for women's empowerment but also for vocational skilling, permanent livelihood, and in also being Aatmanirbhar.
The timing of this initiative though was tricky… It was in early 2021 with the pandemic just subsiding, unemployment rising, and sluggish government offices (Banks, E-Seva centres & RTO). However, we got a good response from the community at large with over 16 candidates enrolling for the 4 monthly programs. While the group was under training, we got a huge impetus, with Rotary District 3141 taking it up as its Women Empowerment Vocational Training Project.  Under the District umbrella, we have 10 women in Chembur-Ghatkopar, 4 in Boisar & 3 in our RCC Shelu.
Today, a group of 20 women is in the various stages of being self-reliant. After completing the long-drawn training & licensing process, recently, 4 women received their own Pink Auto, with the Government of India's flagship finance scheme – Pradhan Mantri Mudra Yojana. This is a special loan scheme for entrepreneurs starting their own businesses/services for the first time.
State Bank of India provided a lot of support in briefing and processing the loan applications with immense enthusiasm during the entire process. In fact, 5 of our first batch of loan applicants got their sanction letters in the hands of Mumbai Collector, Mr Rajeev Nivatkar, in a glittering ceremony organized by the Ministry of Finance to commemorate आजादी का अमृत महोत्सव (75 years of India's Independence).
This was a great push for our resolve to work toward Women's Empowerment, especially in making them self-reliant & confident citizens.
Unique Regular Club Meeting: Combination of 3 Big Events
The evening at our club became special because we had the following 3 major events that took place:
👉 Felicitation of PDG Rtn T.N.Subramanian after his announcement as Rotary International Director-Elect for RI Zones 6 & 7
👉 An awesome film script narration was done by Rtn Sanjay Mehta. It was truly a captivating one from start to finish. The film begins with a flashback and narrates the story of Jayant, Sharda Maa, and many other interesting characters.
👉 Presentation on 'Aapki Umeed Ka Khata' and Participation by the team of Utkarsh Small Finance Bank. They also gifted a lovely book by James Allen titled – The Life Triumphant. This gift is a memory that will surely add immense value to all the members.
Celebrations – Azadi Ka Amrit Mahotsav titled 'Har Ghar Tiranga'
This was a day that got celebrated in a grand manner with our own family of Rodeos, Rotaractors, Interactors & Inner Wheel. The involvement of our Partners-in-Service made the entire event even more promising.
On our Independence Day, our team gathered in Diamond Garden. Our Super Enthusiastic Rtn. Herzel Isaac led us with the Tiranga around the by lanes of Chembur over a 30 minutes walk.
The uniqueness that everyone brought was the commonality in the dress code – Blue Jeans and White Shirt
Speaker Session with HG Prabhu Kartikeya Das
What can you really say about someone who's been there and done that? Having done his M.Tech from BITs Pilani, he worked as a Senior VLSI Design Engineer. He has dedicated himself to the service of the Lord and has to his credit the following:
Bhakti Shastri Degree, Mayapur Institute of Higher education
Has been one of the speakers at Hare Krishna TV
Known for his scientific & Logical discourses on Bhagavad Gita & Srimad Bhagavatam
Deity worship and Mantra Meditation seminars
He delivers sessions to varied audiences viz. Teenagers, College students, Corporate professionals, and families
His session was very well received by the members and they all enjoyed the same thoroughly.
Donations from President Vidhya's School Friend
It is always a great feeling when someone from our school days is able to connect with the causes we associate with at such deeper levels.
Her friend (who doesn't wish to be named) has very kindly donated AU$ 1000 for the TB Patient's Nutritional Kits.
She has a 'Heart of Gold'
With this, our project gets speed and we are ready, set, and going with the first set of 10 patients @ 500 per kit for 12 months.
Not just this, she has supported our Project Red in the previous Rotary Year as well.
All we can express is our deepest 'Gratitude' and the 'Trust' that her money is being well spent!
Movie Watching with Underprivileged Children
We all have been used to watching movies with our families and friends. This time, Rodeos took it on themselves to present this as a gift to 125 underprivileged children from 3 schools in the area.
The recently launched movie – Raksha Bandhan was booked by members for themselves and for the children thereby making it a fulfilled time spent together. Cubic Mall, Chembur saw many Rotarians, their families, and friends enjoying this time together on a project that brought smiles to so many young ones.
View this post on Instagram
Visibility
This is the link to checking out our Club's Visibility in Rotary News for Aug 2022
Here are a few other media coverage in Aug '22:
Cdr Jana in action!
Cmdr Jana visits Vijay Army School & Junior College jointly with PP of IWC Deonar, Rekha Mallya. Their visit involved understanding the kind of projects that could be done from the club's end.
Cmdr Jana also visited Sophia College to share his thoughts on women's role in the Armed forces.
Rtn Sanjay Mehta and his Walks
Rtn Sanjay Mehta and his walks continue – this time it was the turn of the Rodeos to again be together. He has now extended his boundaries also to Navi Mumbai.
Rodeos Saturday walk at Sagar Upvan, Colaba – BPT Botanical Garden followed by breakfast at Leopold.
Enjoy some picture moments of his visits over the month.
Much awaited announcement finally comes through
This message from PDG Rtn Raju Subramanian was indeed very special for us as Rodeos:
What an incredible, exciting, and great learning experience, sitting in the RI Board meeting this evening as a Director-Elect. Also sharing a happy piece of news that the board unanimously accepted the decision of the Election Review Committee rejecting the complaint and confirmed my Election as RI Director.
Treasurer and Joint Treasurer make RCD go the Digital Way
The combo working Treasurer – Vishal Dassani and Joint Treasurer – Rajashri Mokashi has activated UPI and QR code for Club and Trust payments. This makes any potential donors contribute to our causes in a seamless manner.
Jhankar speaks at RC Metropolitan
President Vidhya and RIDE Raju visit KDAH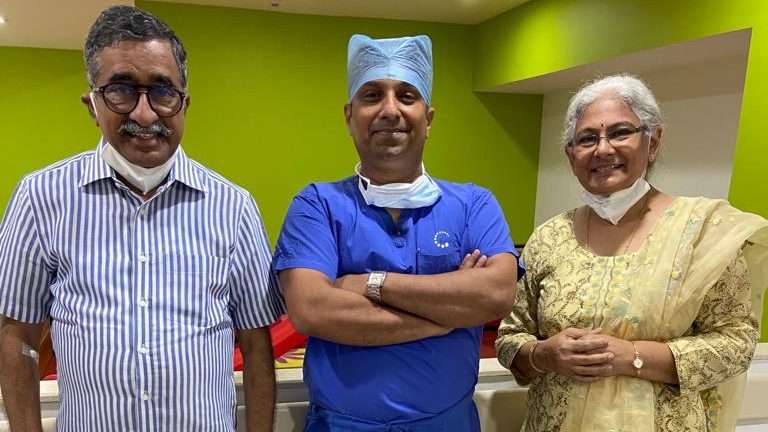 Our participation on the Global Grant front has been on the rise for the last few years.
Dr Shankar Chawla bringing in awareness to young students
Dr Shankar Chawla guided students at CAS Madhyamik Vidyalaya CCH on the usage of Mobile Phone.
The flavor of the birthday present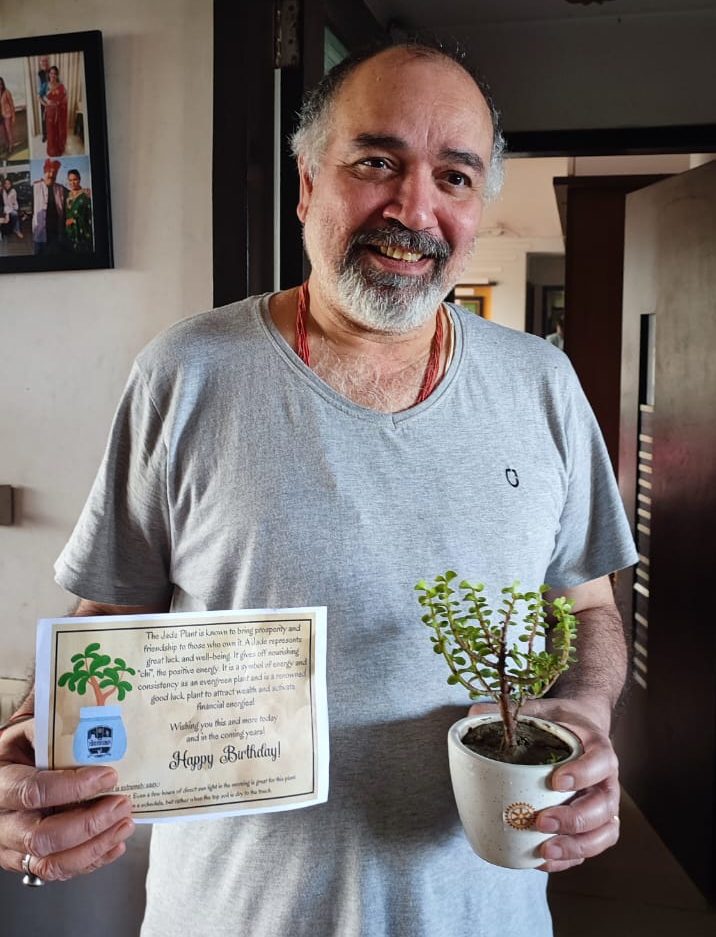 Rtn Nagesh shared an image of what he had received as his birthday gift from the club.
Run on the Independence Day
Rtn Herzel Isaac ran with the Indian flag in his hand from Everard Nagar to the Gateway of India.
Celebrating International Literacy Day
I posted the following on LinkedIn and the examples are focused solely on promoting and talking about how Rotary is impacting the lives of Millions
Kannan's holiday trip to Australia
Kannan's have always been in love with Rotary and all of their trips always carry an element of the same. Their leisure trip covered visits to several Rotary clubs as well. They covered several places including Gold Coast, Canberra, Sydney, and Melbourne.
Annette Athreya Kannan makes his family proud!
Rtr Athreya, son of our Rotary Deonar members Nalini and Kannan, was the President, 21-22, of Rotaract Club of Burwood, NSW, Australia
He was recently felicitated by the club Rotaractors and Rotarians.
Athreya has conducted 10 blood donation camps and 10 plasma donation camps during the pandemic times.
David Coleman, a Federal representative of the Australian government, was the special guest for the felicitation.
Here's a link where we covered his story:
Rotary at a glance
This is an image that was shared by RIDE Raju Subramanian. It beautifully depicts the action for the current Rotary Year which has been themed as 'Imagine Year'. Its shows Rotary's commitment to the causes that it deeply cares for. The figures seen are relevant for the entire Rotary World.
My gratitude if you have taken the effort to read through our detailed newsletter.
What projects did you like?
As a Rotarian, what connected with you?
As a visitor, what projects would you like us to do?
It would be great if you leave your comments in the box below.
Do your bit by copying this link and sharing it with people whom you would like to inspire on social and community services OR simply use the links given under 'Spread the love' at the end of the page. Your action can be highly beneficial to the needy.

With Rotary Cheers!
Rtn Vivek Khandelwal
Director – PR 2022-23
Rotary Club of Deonar