From the PR desk: 01 Mar 2022

Hello Rotary Members, Our Extended Families & Well Wishers,
The valentine's month of February has been quite special with extended winter in and around our areas. With the grace of an almighty superpower, the impact of the virus has been less this month.
The breaking news of this month has been the initiation of our 1st ever historic Global Grant that saw its 1st beneficiary. The video interview on the same is a Must Watch.
Our club has once again been at the forefront of service projects and has executed projects that are truly the need of the hour. RI President Shekhar Mehta urged us to do projects empowering girls and our Project RED stands true to this demand.
It is absolutely amazing to see how we are seamlessly aligned to our theme – Serve to Change Lives
In the Rotary calendar, it is Peacebuilding and Conflict Prevention Month.
Here, I welcome you to walk with me on our accomplishments of Feb '22
---
Global Grant Project – Touching Little Hearts (TLH) got rolled out
TLH is the first single largest project of our club valued at Rs.64.67 lacs through the power of Global Grant. This is a project of fulfilment.
It has been a superrr beginning for us with the 1st beneficiary receiving a new lease of life for Baby Anshika Mali. She was successfully operated upon in Kokilaben Dhirubhai Ambani Hospital.
Watch this engaging chat as Rtn Sudhir Mehta and Rtn Jaisal Jetsey share what this project means to them, for the club and to the community at large.
This prestigious project got conceptualized under the able leadership of PP Prabodh Sharma who was ably supported by many Rodeos from the front as well as behind the scenes as well.
---
Dr Sunil Keswani and NBC in Action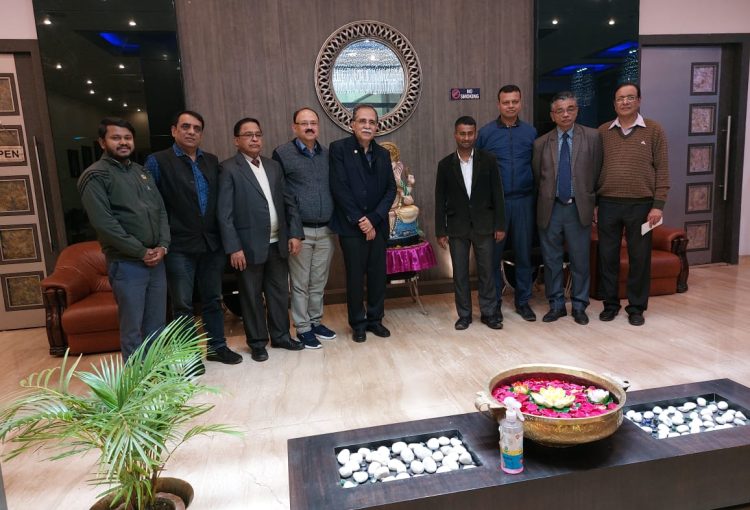 It was great to see that our partner institution National Burns Centre (NBC) which is the mecca of all the Ops Restore Projects has been recognized as a research body by the Dept of Scientific and Industrial Research – a unit of Central Govt.
This recognition highlights the quality of research activities being executed.
****
Rtn Dr Sunil Keswani also had a meeting with Rotarians of RID 3240 to initiate the process of setting up a SKIN BANK in Guwahati at Nemcare Hospital.
---
Rotary Deonar's Vocational Excellence Hub – Concept Learning in Maths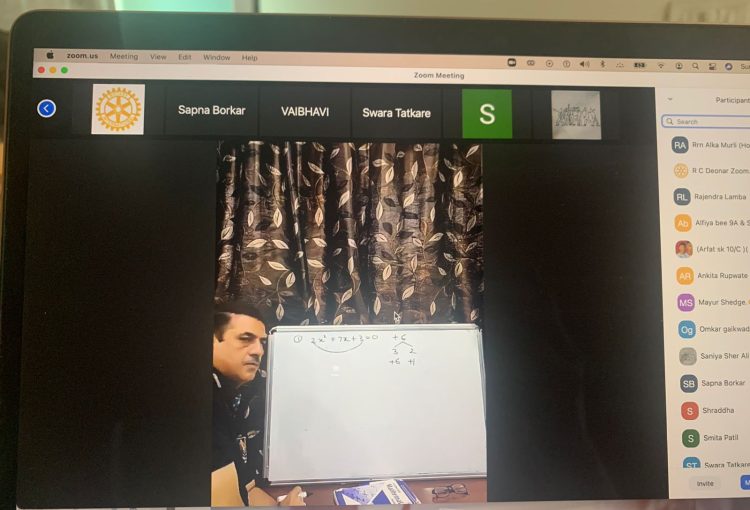 The action on teaching continues and it has been completed for a quarter now. Project Chair Rtn Alka shared how retired Senior Scientist of BARC & Professor of Chemistry at BARC college, Mrs Renuka Agarwal was invited to the class.
Together with Prof. Lamba, this was an excellent value addition in imparting knowledge to young minds.
---
Cycle donation by PE Vidhya Subramanian and PDG Raju Subramanian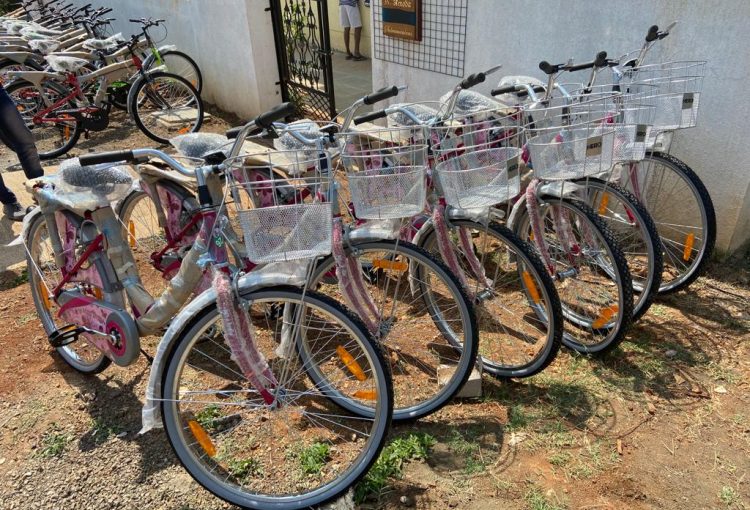 Our generous President-Elect came forward to support an extremely noble cause of donating 19 bicycles comprising 13 boys and 6 girls to school children between the age group of 12-15 years at Kikavi village in Karjat.
This was also supported by the distribution of Project Red's hygiene kits to the girls and their mothers.
---
Joint Project with RC Mulund East to distribute 250ml Himalaya Sanitizers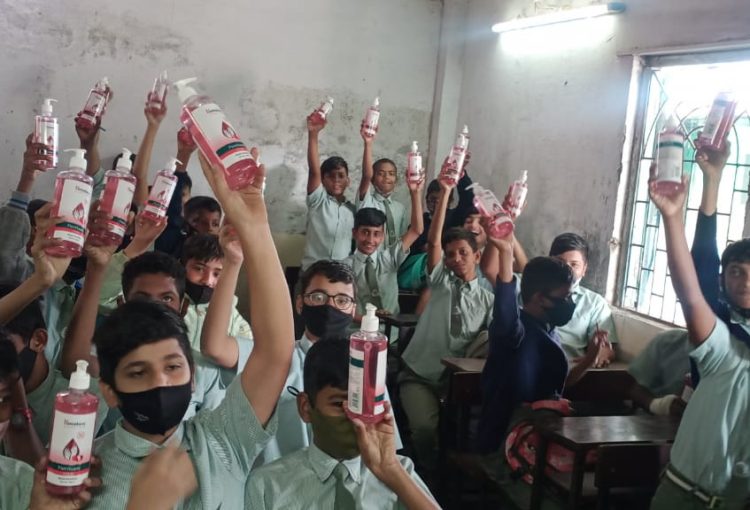 What was planned in the previous month saw action in terms of distribution in the current month.
Our gratitude to Rtn Rajendra Datye, Rtn Padma Kapoor, Rtn Vishnu Kamat & President Sudhir Mehta for putting in their efforts in getting nine thousand bottles of 500 ml sanitiser of an MRP value of Rs.250 from Himalaya.
Five thousand units were distributed in around ten schools in the Trombay, Mankhurd and Deonar areas.
RC Mulund East's partnership with CSR partner Himalaya Group came in handy in this planning.
---
Distribution of sanitisers, masks, and hygiene kits to the Trombay police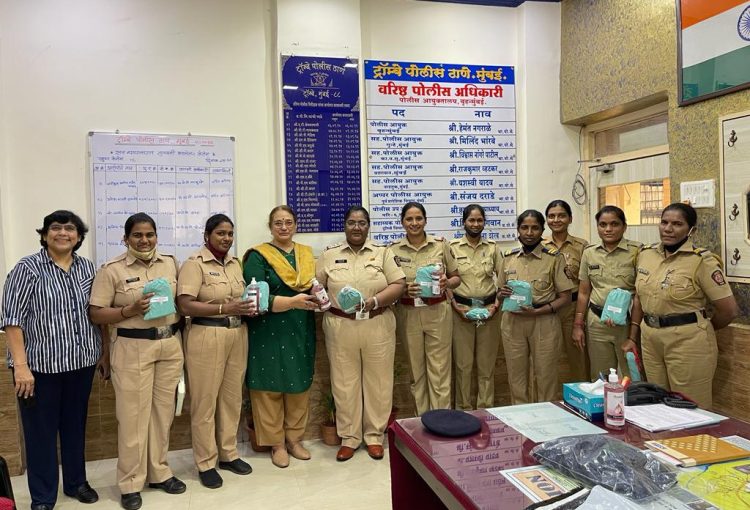 The Trombay Police team was delighted to see the essentials coming their way. Rtn Padma Kapoor and Rtn Sangeeta Shahani made sure that the people who serve us selflessly are taken care of.
---
Project Chhaya in Action!
The objective and intent of Project Chhaya is to support schools at varied levels. In the month, it added 1 more orphanage and the idea of supporting young school children is growing.
Rtn Herzel Isaac recently raised over Rupees 30,000 as part of his one hundred days of running initiative for this project.
---
Pink Auto continues to Spark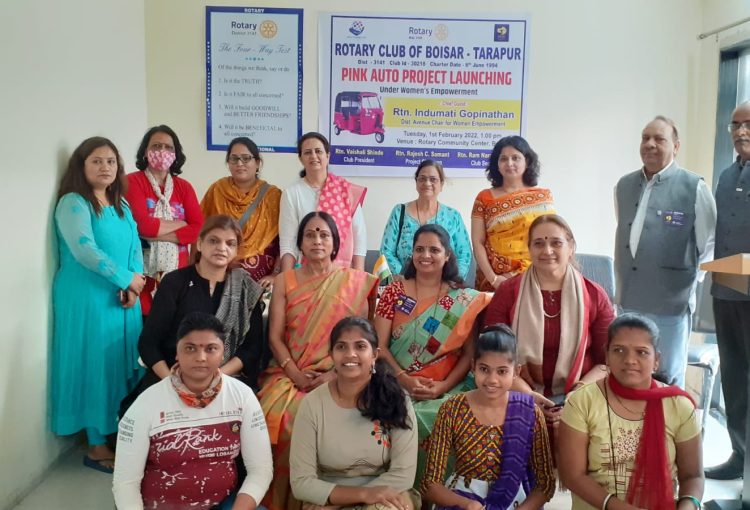 The Pink Auto team comprising of Project Lead Rtn Alka along with Rtn Padma Kapoor visited RC Boiser Tarapur to launch a batch of ten women for the District Pink Auto project.
District Project Chair Rtn Dr. Indumati Gopinathan enthusiastically appreciated everyone for their active participation and support.
RC Boisar managed to get a CSR partner to fund the down payment for the auto loan. Subhash Motor Training School was identified as the training partner. All project partners were present for the launch.
To a caption contest of a specific photo of Rtn Padma – Her views were the following:
This expression is etched in my mind…. The backgrounds these ladies come from and their pathetic knowledge of menstrual hygiene is what motivated me to get deeper and help them.
---
Sastur is back in action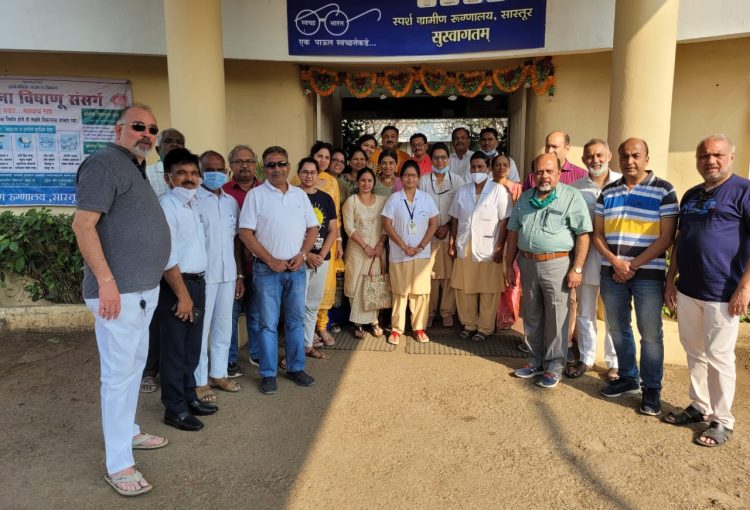 Rtn Nandu Shenoy alongwith the group of Doctors and Rtn Nagesh Bhat visited Sastur and declared the next tentative dates of the camp as 4th and 5th June '22.
---
Rotary helps in creating Memories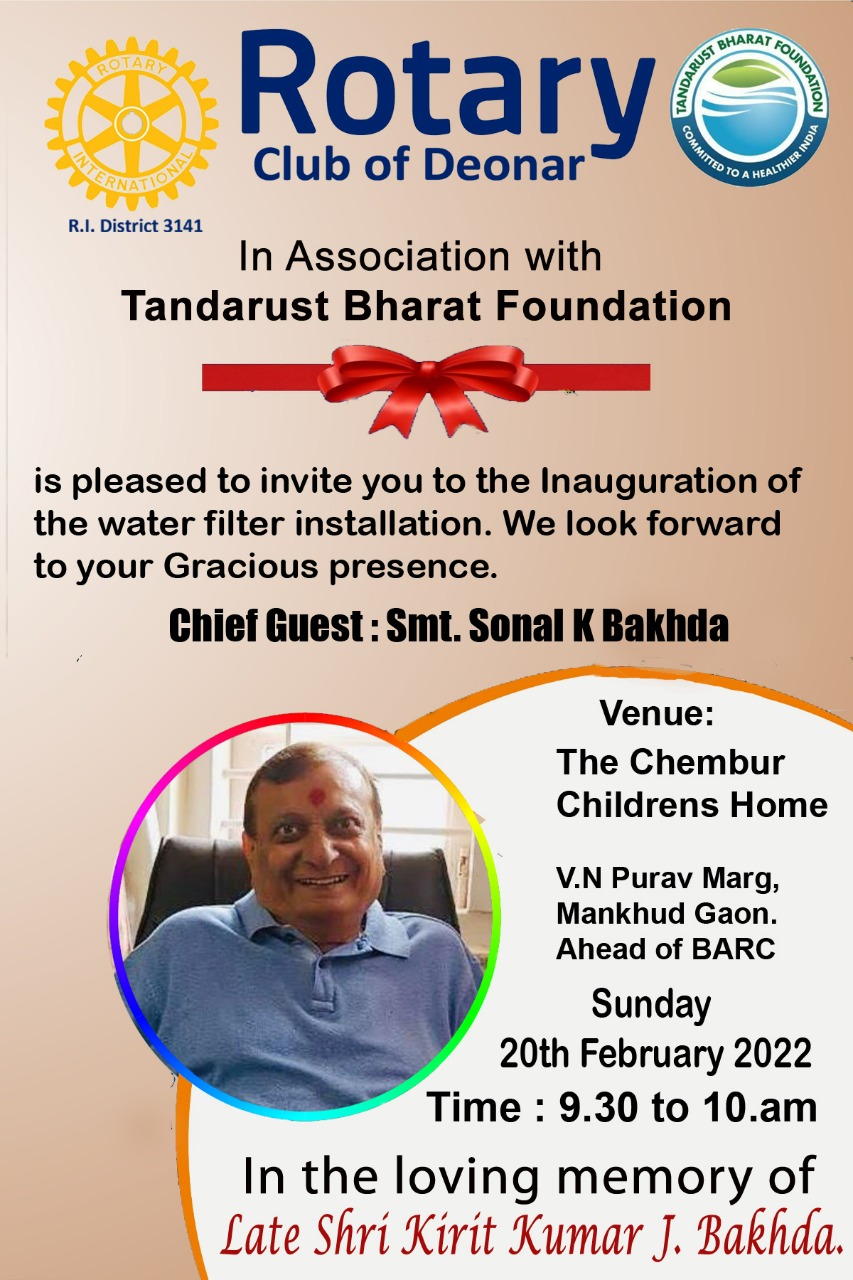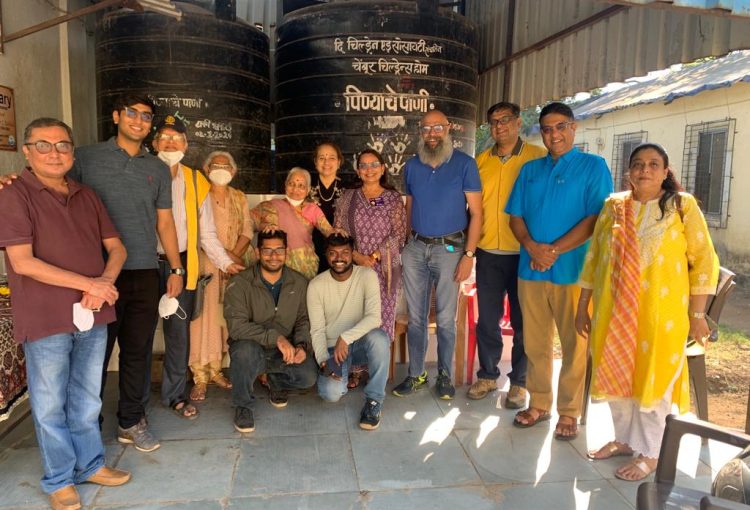 Anything tragic that happens in one's life always leaves behind memories that last a lifetime. Rotary with its incredible power to do good to the world always opens up the door to do good. This is what happened when Rtn Hema Subramanian recently came forward to donate a Water Filter to Bal Kalyan Nagari Children's Home in the Mankhurd area of Mumbai in memory of his late father. She lost him recently amidst the pandemic. The project came to life jointly with the support of the Tandarust Bharat Foundation. The school and the children were extremely thankful to RC Deonar for this generous donation.
---
Project RED in continuation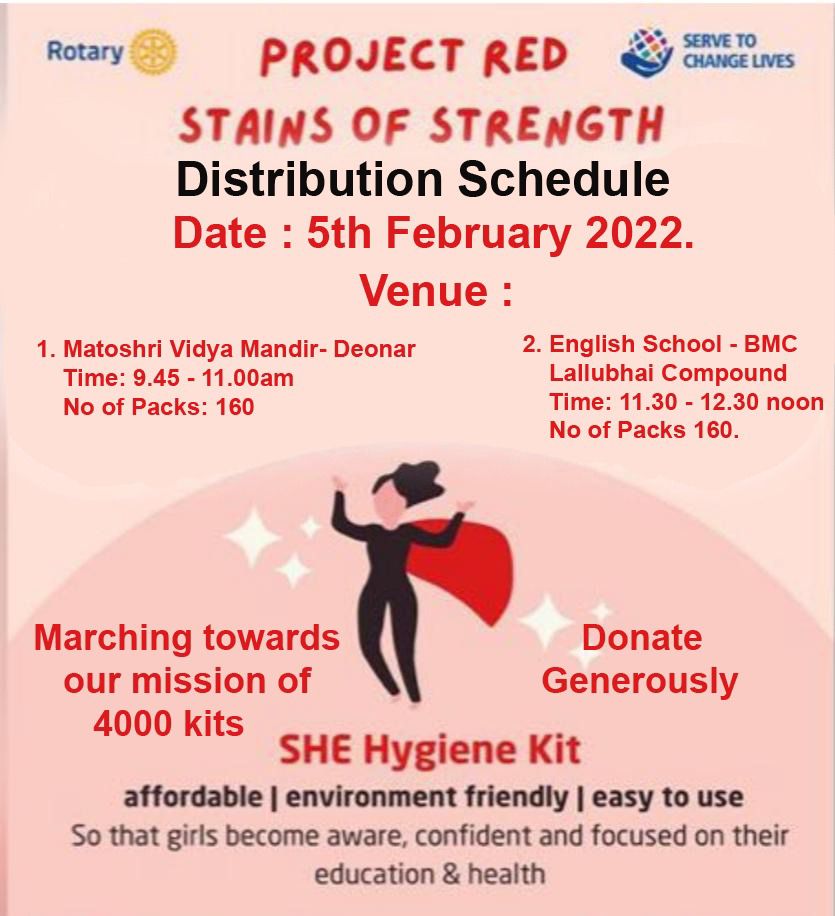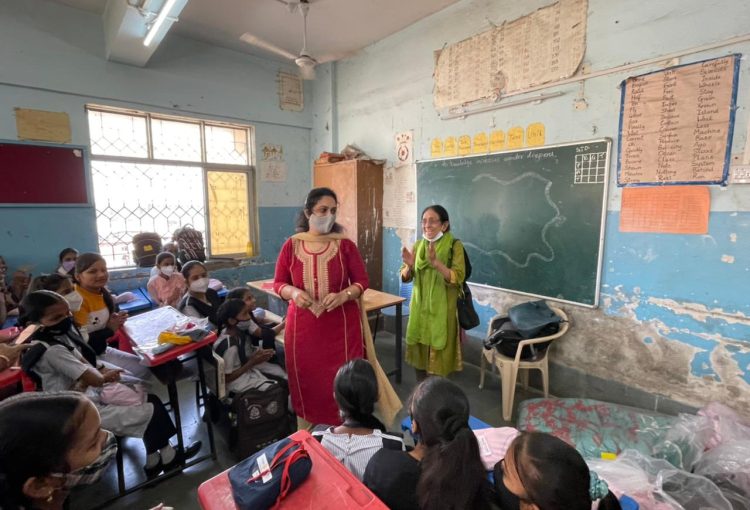 Project RED continued to march ahead towards our vision of covering four thousand girls in Mankhurd/Deonar, Chembur area
The schools covered included Matoshri Vidya Mandir, Deonar and BMC English School at the Lallubhai compound.
The distribution followed a detailed session on menstrual hygiene and the aspects to keep in mind. Our veteran Rtn Dr. Usha Desai spent time with the young girls jointly with Project Lead – Rtn Rajashri Mokashi, Rtn Padma Kapoor and other Rodeos.
---
Cancer detection camp for the BEST bus drivers and conductors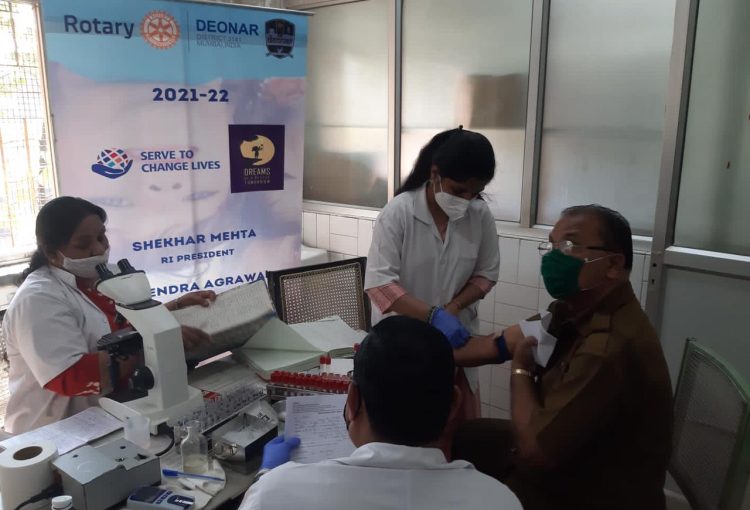 Rotary Club of Deonar jointly in association with the Cancer Patients Aids Association successfully conducted a cancer screening camp for BEST drivers and conductors. In total, there were 102 individuals who got screened at the BEST Shivaji Nagar Bus Depot in the Govandi area. It was really a deserving community and there are a lot of follow-up cases that our Club is going to move forward on to ensure complete well-being.
---
Phototherapy units at Shatabdi hospital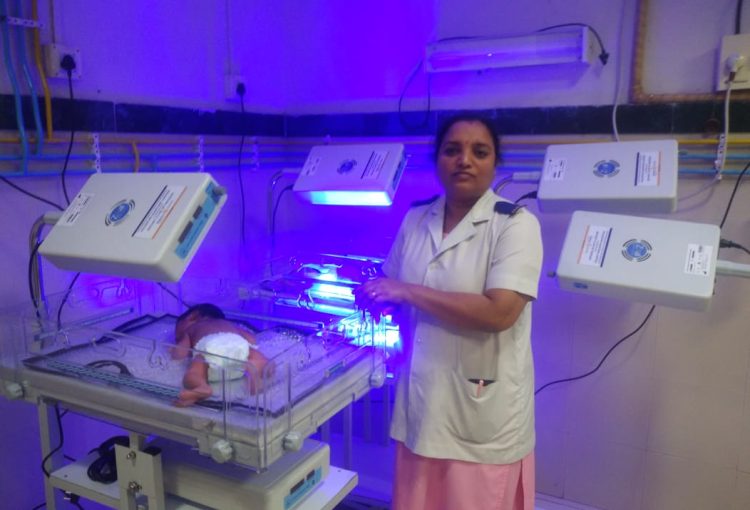 Phototherapy units were installed at Shatabdi hospital as a part of CSR initiative of our donor Mr Suresh Parekh through Rtn Hema on behalf of his company in collaboration with our club. The formal inauguration will happen soon.
---
Speaker Session by Ms Meher Castelino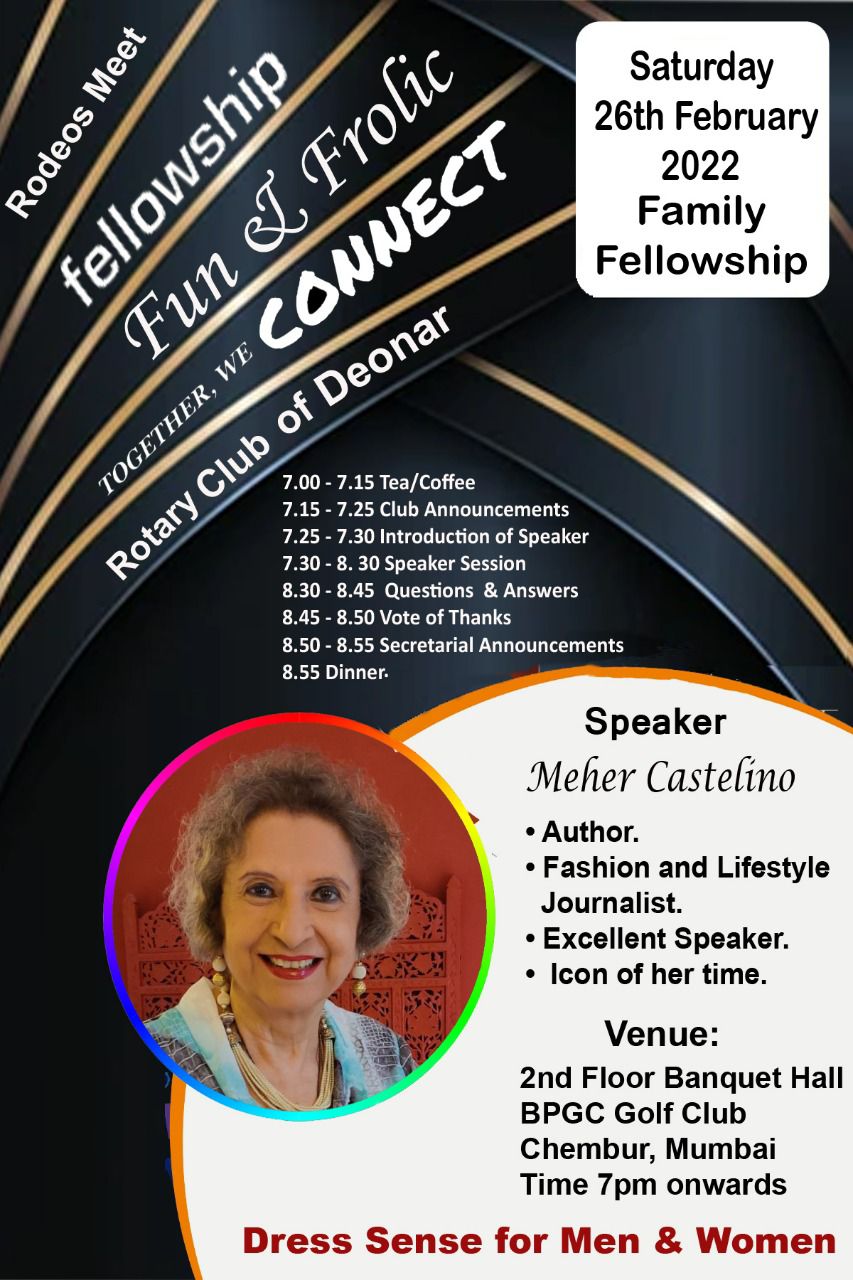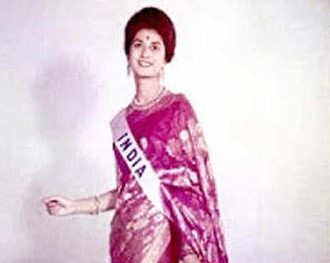 Our choices of Guest Speakers have been quite mixed to ensure that we get a wide variety of experts to learn from. Ms Meher brings with her a cross-section of experience and has been completely in tune with the evolving times. She is India's 1st beauty queen and was crowned Miss India in 1964.
Her work encompasses Students to Celebrities and that shows the depth that she has already achieved.
Her focus area covers – being a Jury member at the National Jewellery Awards, Speaker on Fashion Journalism, Design Collection Showcase, Being a regular invitee at the prestigious fashion institutes from time to time.
---
Khandala Calling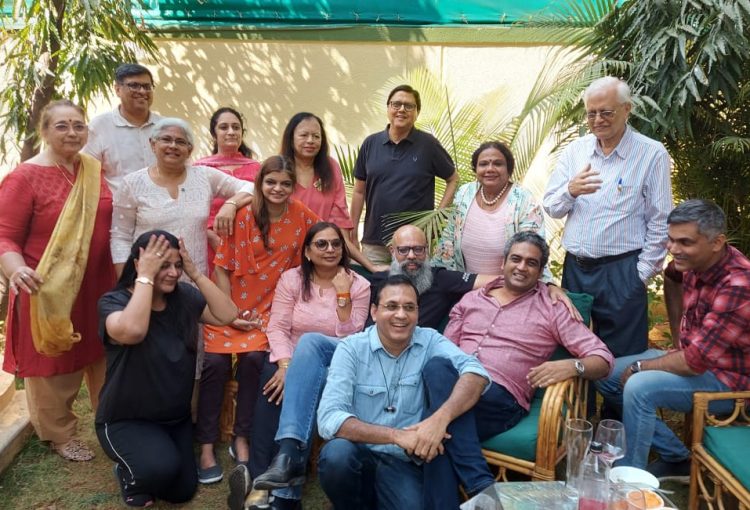 President Rtn Sudhir Mehta organized a fun get together coupled with the board meeting at his Khandala residence. The entire day was fun-filled with meticulous planning at his end right from snacks and tea to chilled beverages and 5-star vegetarian food.
There were fun games that were driven jointly by Rtn Herzel Isaac and Rtn Monica Sapra. All-in-All, it was a great fellowship amongst the Rodeos.
---
Rotary Club of Deonar is reaching new highs of getting visible in Rotary News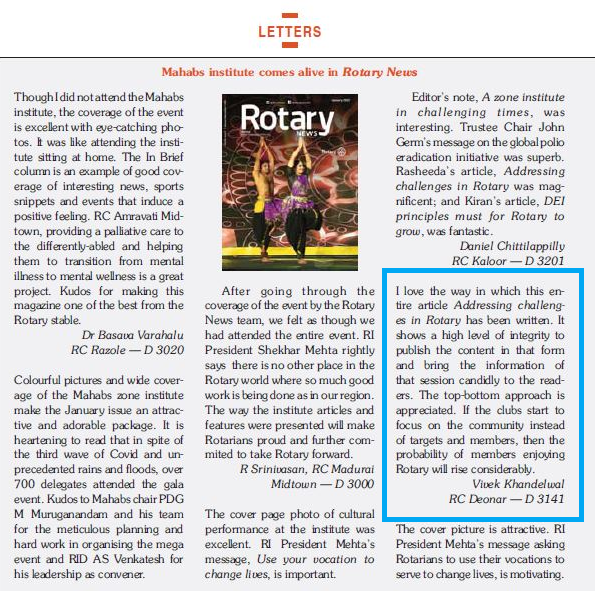 Visibility of RC Deonar continues in Rotary News: https://rotarynewsonline.org/letters-to-the-editor-february-2022/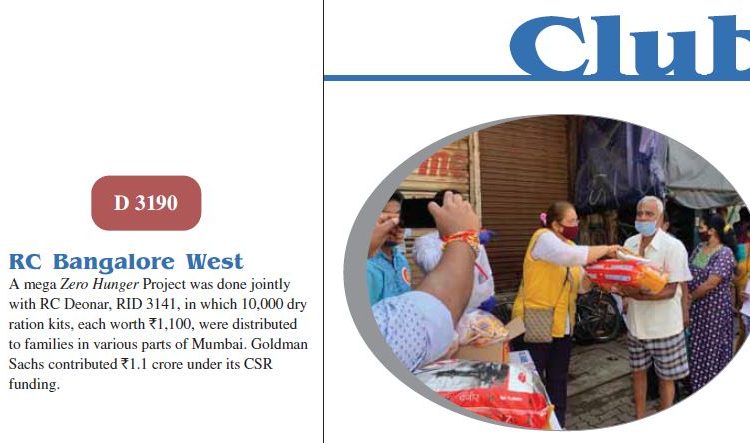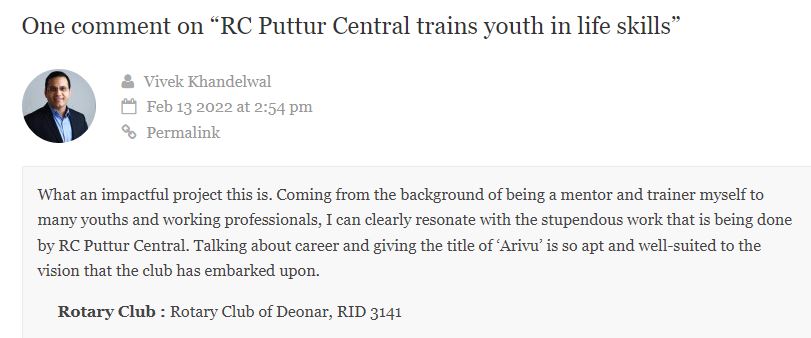 ---
Celebrations:
Magic of Jhankar continues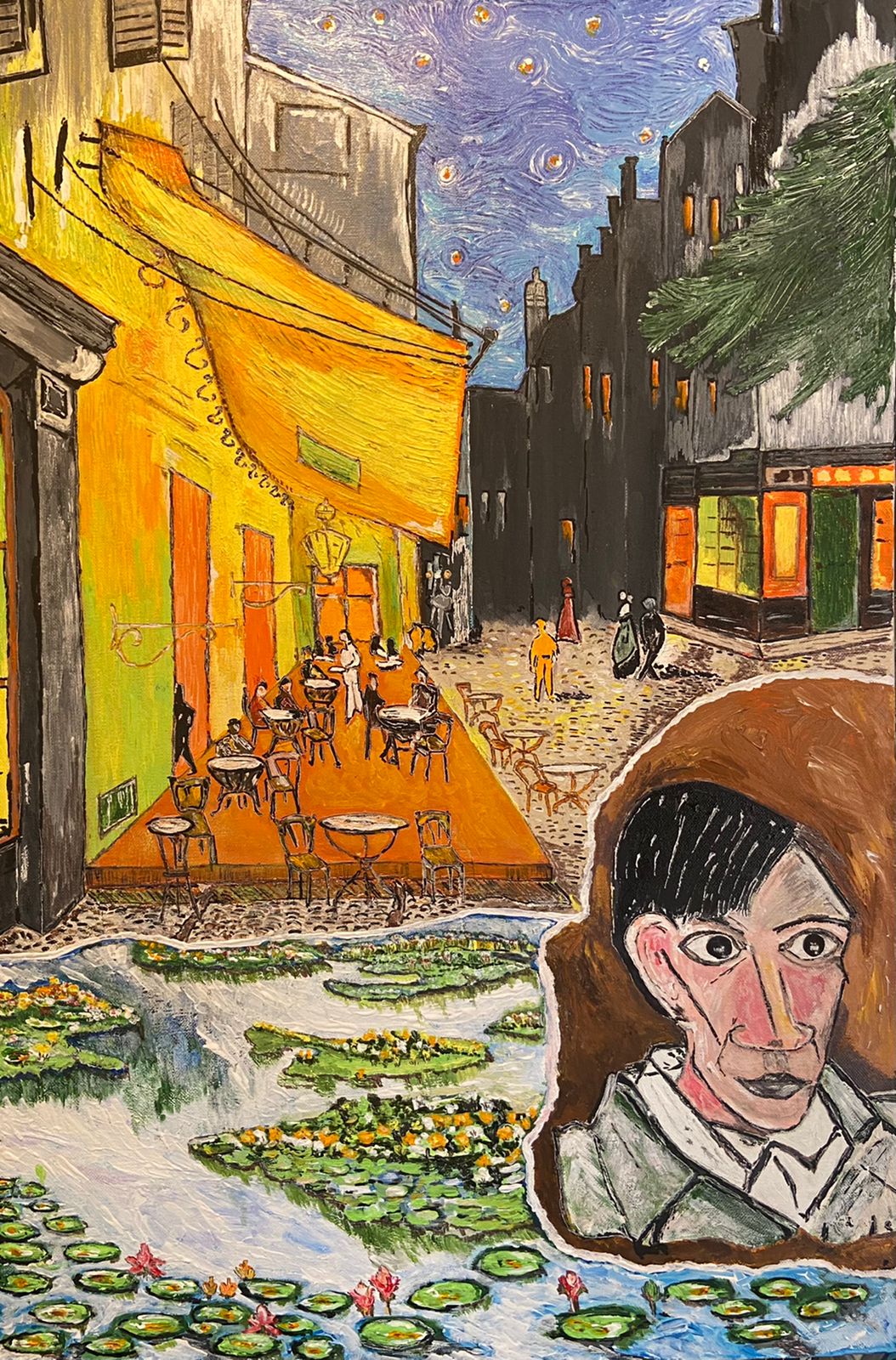 He and his paintings – both are equally amazing! He shared quite a few in the month. Why is it that the WhatsApp group comes LIVE into action the moment his painting pictures comes in – it is his sheer quality with his sense of detailing along with the background story. Here are a few more for you to experience this moment.
3 more masters on one canvas:
Van Gogh
Claude Monet
Pablo Picasso
In Jhankar's view: Courage and Conviction are the 2 qualities that cross my mind … when I understand these masters.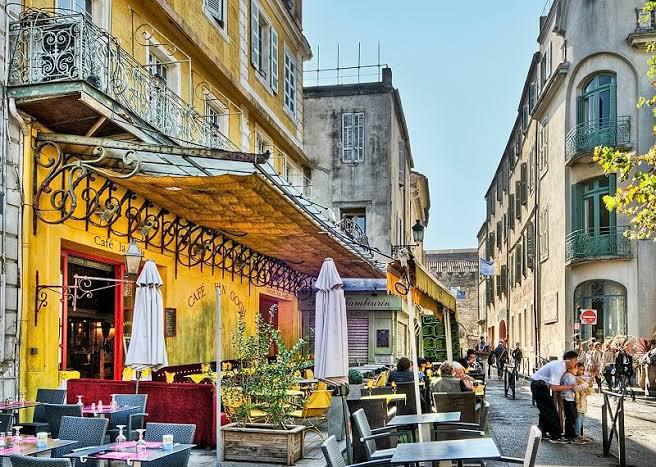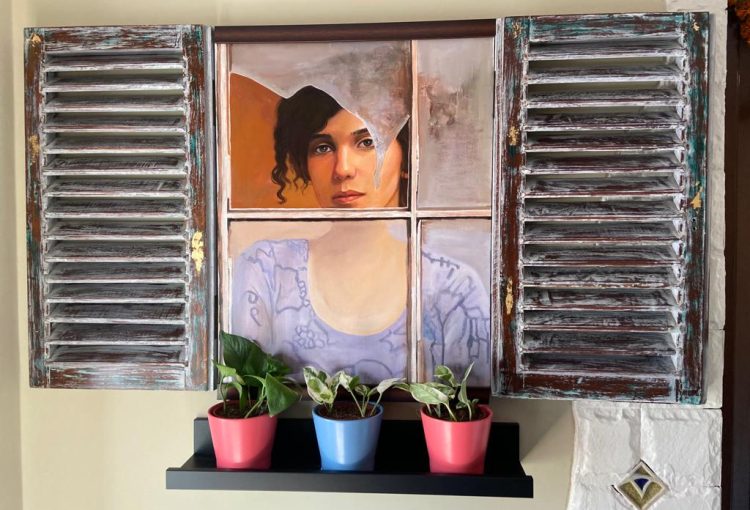 ---
City Exploration Walking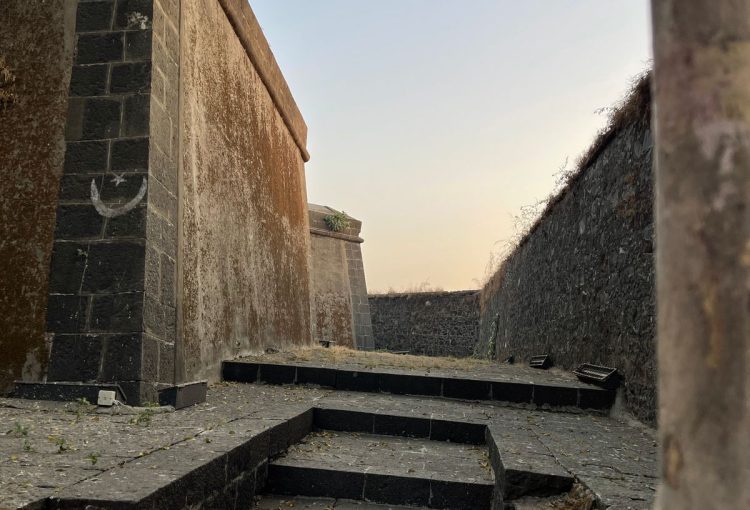 Rtn Sanjay Mehta is always on his toes discovering one place or the other. He visited Sewri Fort – although it was closed, he managed to get a beautiful view of the city.
Sunrise at sea, mangroves, flamingos from afar and the Trans Harbour Link under construction were some of the views in addition to the fort of course, from outside.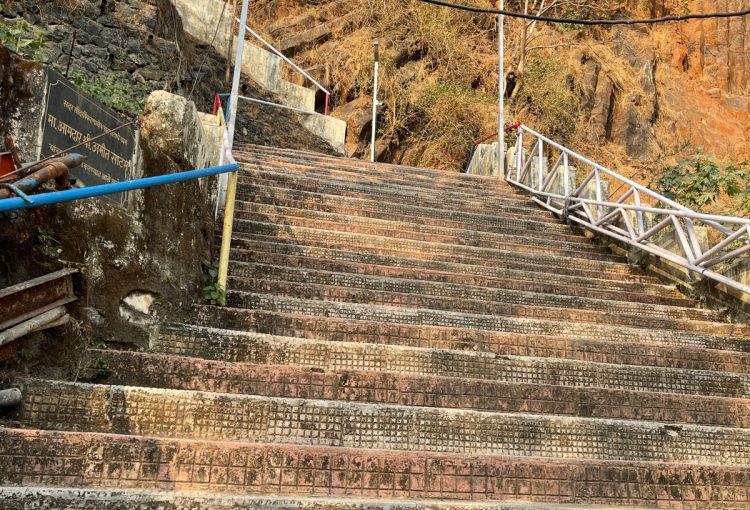 He also visited Gilbert Hall and it was nice to see our Architectural expert – Rtn Liladhar Parab sharing this:
Gilbert hill is the oldest skyscraper and it was formed around sixty-six million years ago at a time when India was still a floating island south of the equator, but rapidly gaining on the Eurasian plate in the north. In just fifteen million years—a short span in geological timescale—the Indian plate would collide violently with the Eurasian plate resulting in the formation of the massive and breathtaking Himalayan range.
---
Kannan's in Srilanka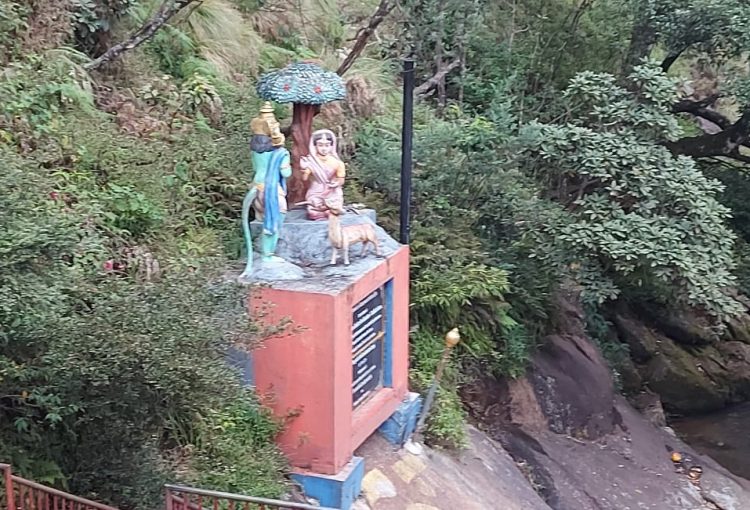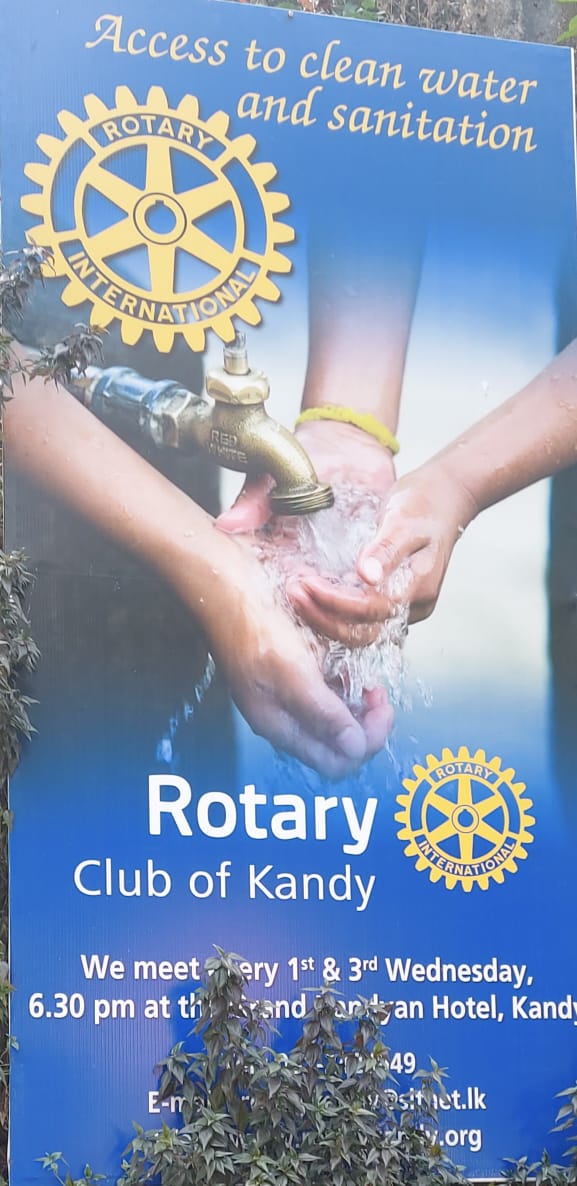 The Kannan's are known for their trips across unusual parts of the world. This time it was Srilanka. It is also a known fact that their heartbeats for doing good via Rotary, and they took time to visit RC Kandy.
There was also a continuous flow of images from their trip. It was also reminiscent of what we have seen in the epic Ramayana. They visited several places of significance and kept on sharing those stories with pictures with us. It was a déjà vu feeling since everyone started to visualize those images.
Enjoy the picture here.
---
Rtn Narender Kalra's grandson – Rachhit in Action
It was great to see how young Rachhit Jay Kalra has broken the record to become the youngest cuber to solve multiple challenges.
What is truly worth noticing is that he achieved this at the tender age of just – 3 Years, 4 Months, and 10 Days.
---
RC Deonar Archives
This picked my attention – we all know how an image can speak a thousand words. Just see these two and feel the vibrancy that the Rotary fellowship adds to your life.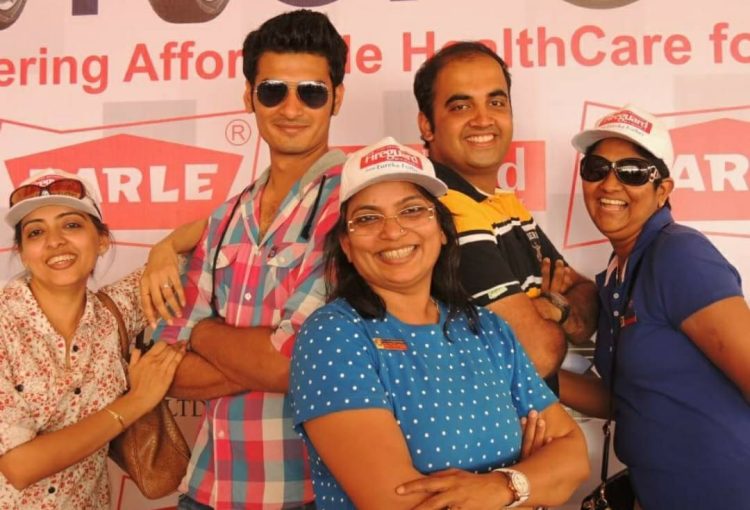 ---
I hope …you must have a 360-degree overview of how Rotarians aka Rodeos commit themselves towards not just uplifting the lives of others but taking care of their own well-being.
What kind of project would you love to see our club doing?
If you are reading this as an outsider, I humbly invite you to attend our meetings and projects just to get an overview of what we really do and what it means to us.
Our projects encompass both Urban and Rural areas and thus, we will ensure that you will get to experience any project that you closely resonate with.
Our Mar '22 month is jam-packed with some great projects – the impact of which is truly long term. Be with us to both draw inspiration as well as inspire others.
To close, I would like to quote Thomas Edison – If we did all the things we are capable of doing, we would literally astound ourselves!
With Rotary Cheers!
Rtn Vivek Khandelwal
Director – PR 2021-22
Rotary Club of Deonar
YouTube: bit.ly/3coMem0
Website : vivekkhandelwal.in