From the PR desk: 01 Oct 2021
Hello Folks,
What a terrific month September has been for all of us!
A month of rains, festivities and yet another exciting one with soul-satisfying projects.
Rodeos from the Rotary Club of Deonar have always led from the front irrespective of the position they handle in the club and this month has brought so many of them to the forefront.
Rotary International observes the month towards 'Basic Education and Literacy' and it feels so great to share that our Project called 'Prayaas' is an attempt to support the 7th-grade students to bridge their digital divide through the usage of Tabs. Rtn Rohan is driving this with his immense passion and zeal. It is like a seed being sown now and then it's going to unfold in an amazing manner in the months ahead.
RI President Shekhar Mehta's message on literacy for the girl child is quite inspirational – https://rotarynewsonline.org/remove-barriers-to-education-of-girls/
It truly connects with us since we are also equally inclined to focus on girl-child through a variety of projects that we have already executed and the ones that are in the pipeline including Project RED.
Let me take you on a journey of some of the happening actions in the month gone by:
---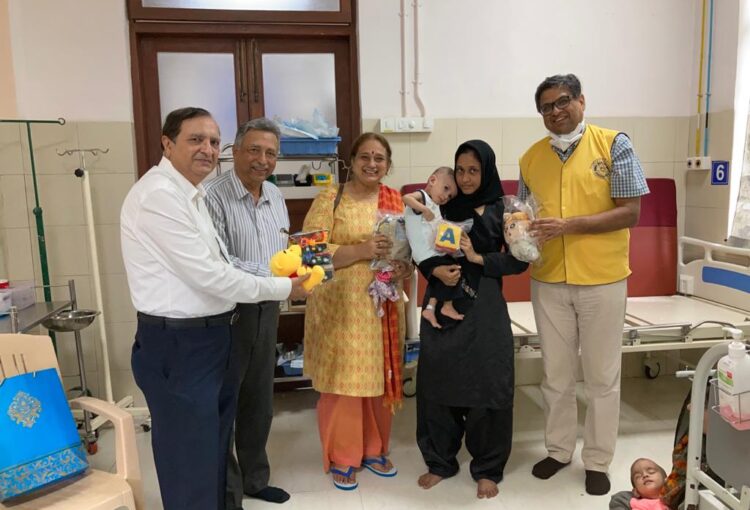 Inspiration
It started with a visit to Wadia Hospital to meet and greet the young kid coming out of the paediatric heart surgery. In the words of Veteran Community Projects Champion Rtn Vishnu Kamat, the parents of this child were from economically backward family and they literally had tears of gratitude towards what Rotary has done for them.
---
Commitment
A large part of the execution connected to the 10,000 ration kits to the poor and the needy was successfully completed under the leadership of President Sudhir Mehta and PP Rtn Padma Kapoor.
This month saw 7 trips made to different places of the Prabhadevi area to support the beneficiary. In the words of our New Member – Rtn Suresh Menon:
the task was focused and the mission was accomplished – they were looking into the eyes of the recipient and this was the memory that he will never be able to forget in his life. He has got really inspired by the commitment of the Rotarians.
This has been one project for which words will always be less – watch out for this space for some real stories coming in soon!!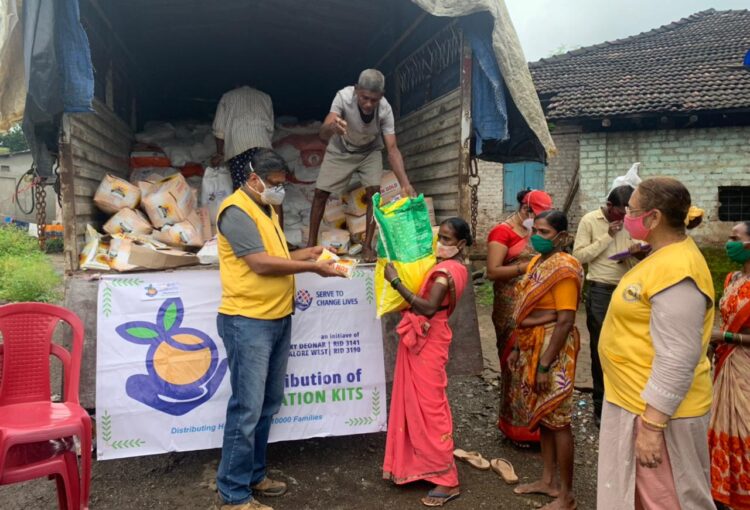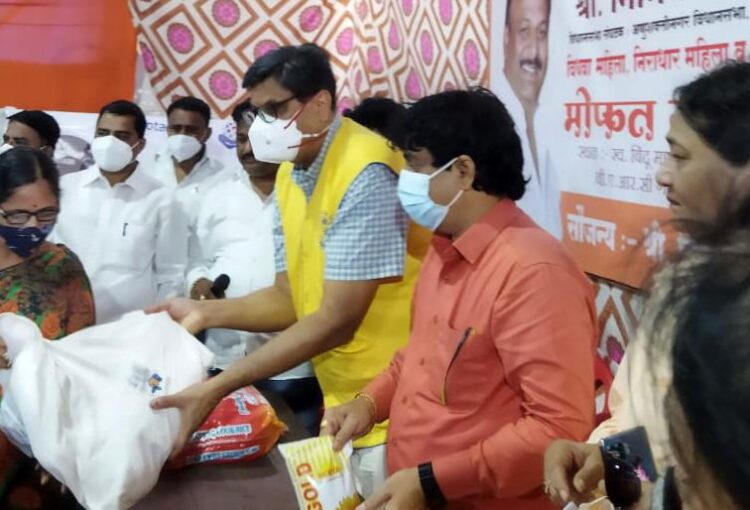 ---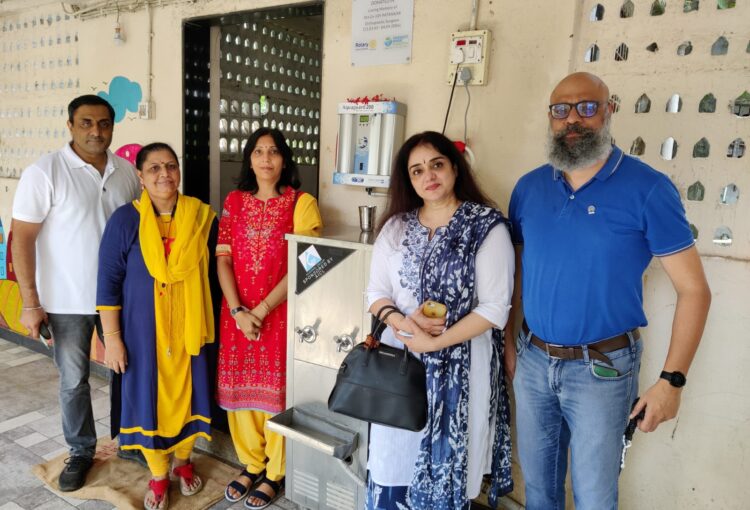 Water
'Water Filter' was donated at Bal Kalyan Nagari orphanage for Girls. This initiative was supported by Rtn Dipti Patankar in memory of Late Rtn Dr Joy Patankar. The project was also supported by Tandarust Bharath Foundation
---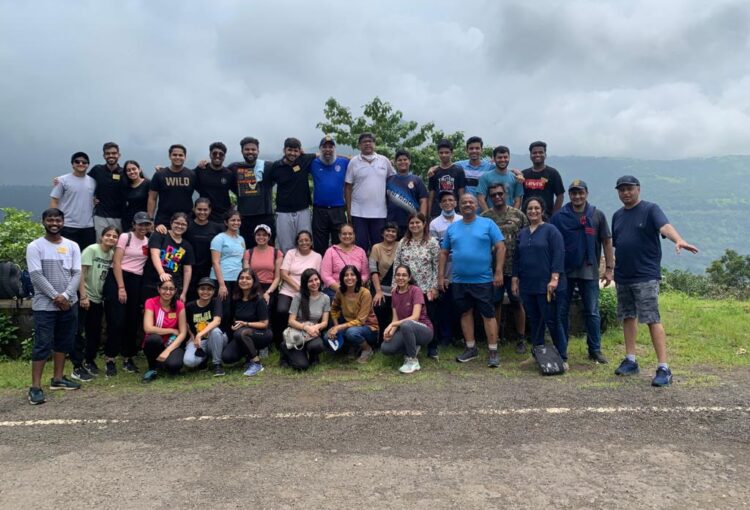 Health & Wellness
The club charged batteries of all the members through a trekking trip organised by Rtn Herzel Isaac to Mt Alterra in Khandala. In total, 39 people including a lot of Rotaractors thoroughly enjoyed this Walkathon fellowship. The club is committed to continuing the tradition for the rest of the year as well.
Urban Forest Project, a passion led by Rtn Rohan and jointly driven by Rtn Shivani is going great guns since it is already bringing in so much of greenness to everyone with the level of commitment and progress that they have truly presented. The thought that the school children can come and play there amidst over 500 saplings is an idea that can just bring smiles.
---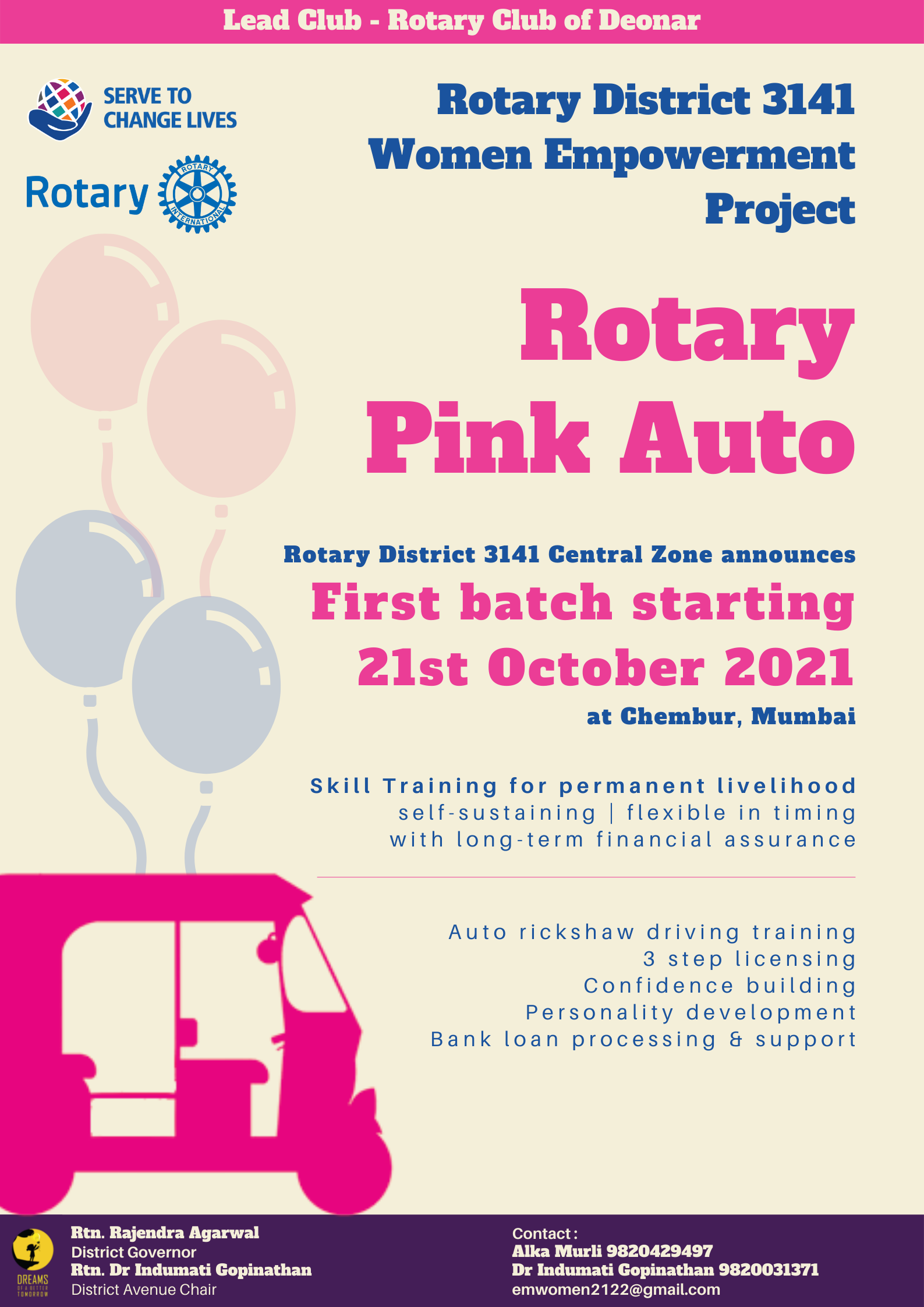 Women Empowerment
A project that is making noise is 'Rotary Pink Auto' – A few days back I received the flyer of this project from the neighbouring district. What made me happy is that it was designed by none other than our PR Creative Specialist Rtn Tushar Gangoly. The drive for this project is immense since what started as a Club Project has now moved to a much bigger orbit with the District holding it. Rtn Alka Murli is doing everything possible to ensure that it is a super-duper success and hears updates of how many lady drivers have got their clearances to drive the auto bring so much happiness to all of us. .
---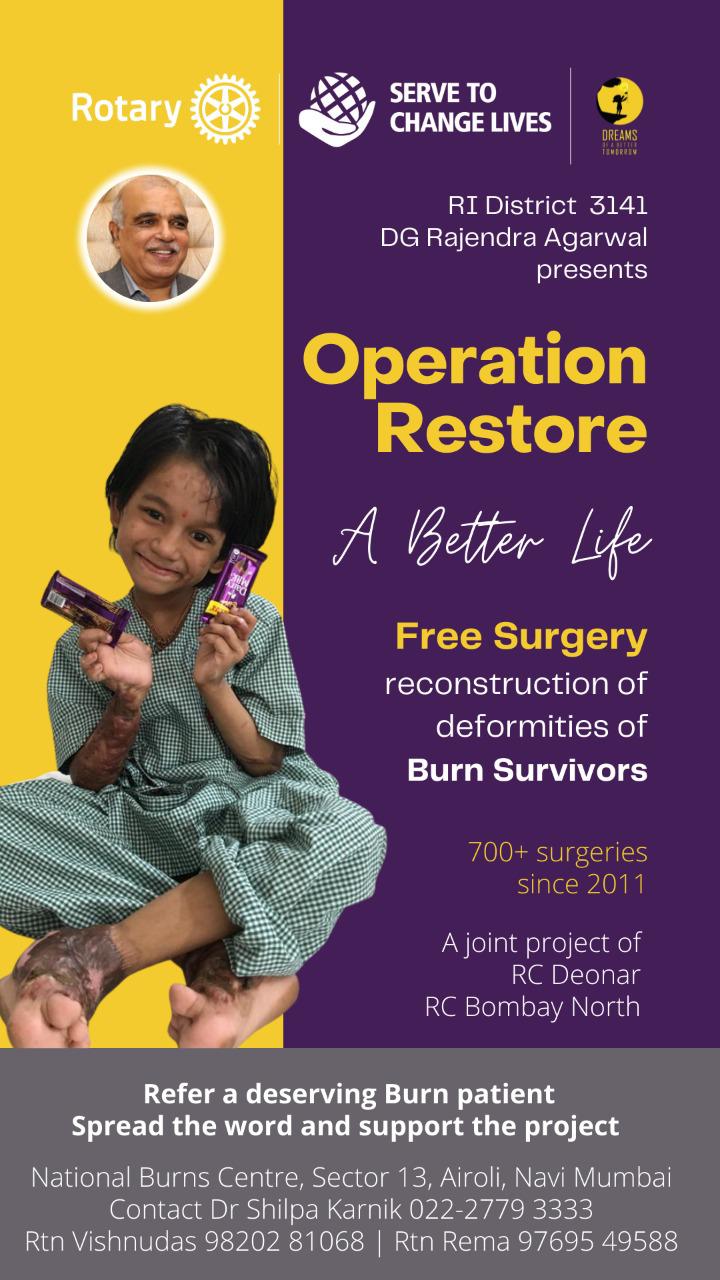 Re-igniting Lives of Burn Patients
Another project of difference is our dearest – 'Operations Restore'. With the Global Grant in place jointly in association with RC Bombay North and a milestone of over 200 surgeries to be done by end of 2022, this is a project that is already making waves not in the District, not in the State but in the Country. With more than 700 free surgeries so far – 700 people have become functional from being non-functional. Over 2000 people have been happier since the victim's families have also been a lot happier with the recovery. Each surgery lasts for around 3-4 hours without any compromise in terms of the quality of treatment being given to the patients. All that one needs to do is share the flyer amongst their circles so that it could reach the needy for free reconstructive surgery.
---
Project RED
PP Rtn Padma is absolutely unstoppable since she has taken another mandate to bring smiles to young girls through Project RED – it is intended to bring joy in the life of girls dreaming to go to school.
---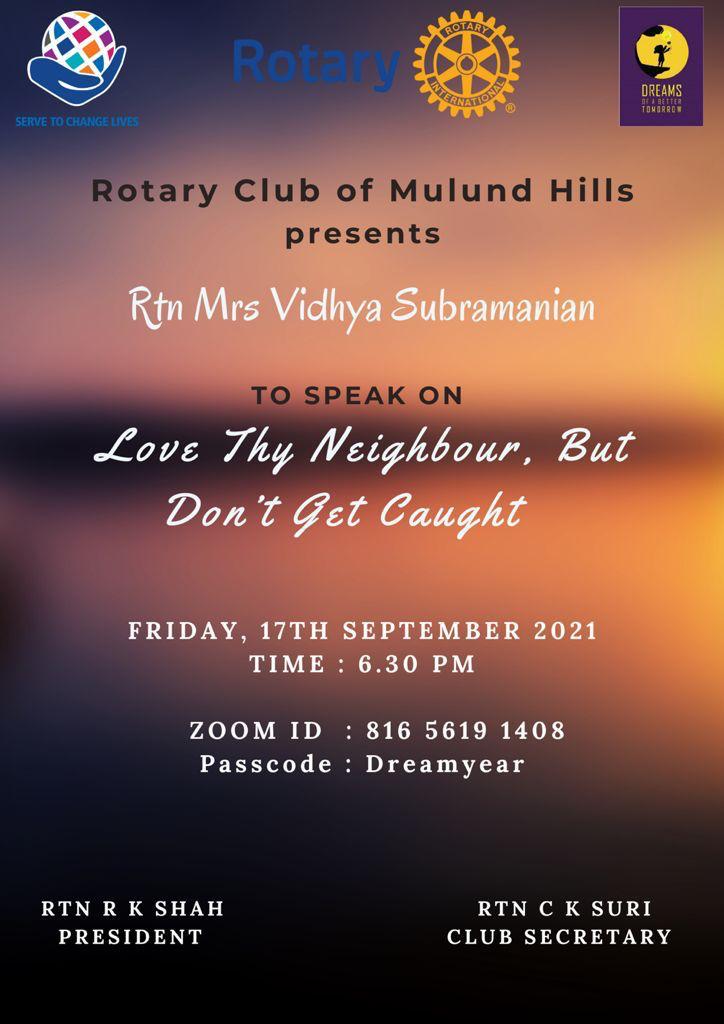 President-Elect in Action!
President-Elect Rtn Vidhya Subramanian was invited by RC Mulund to speak on Love Thy Neighbour, But Don't Get Caught
---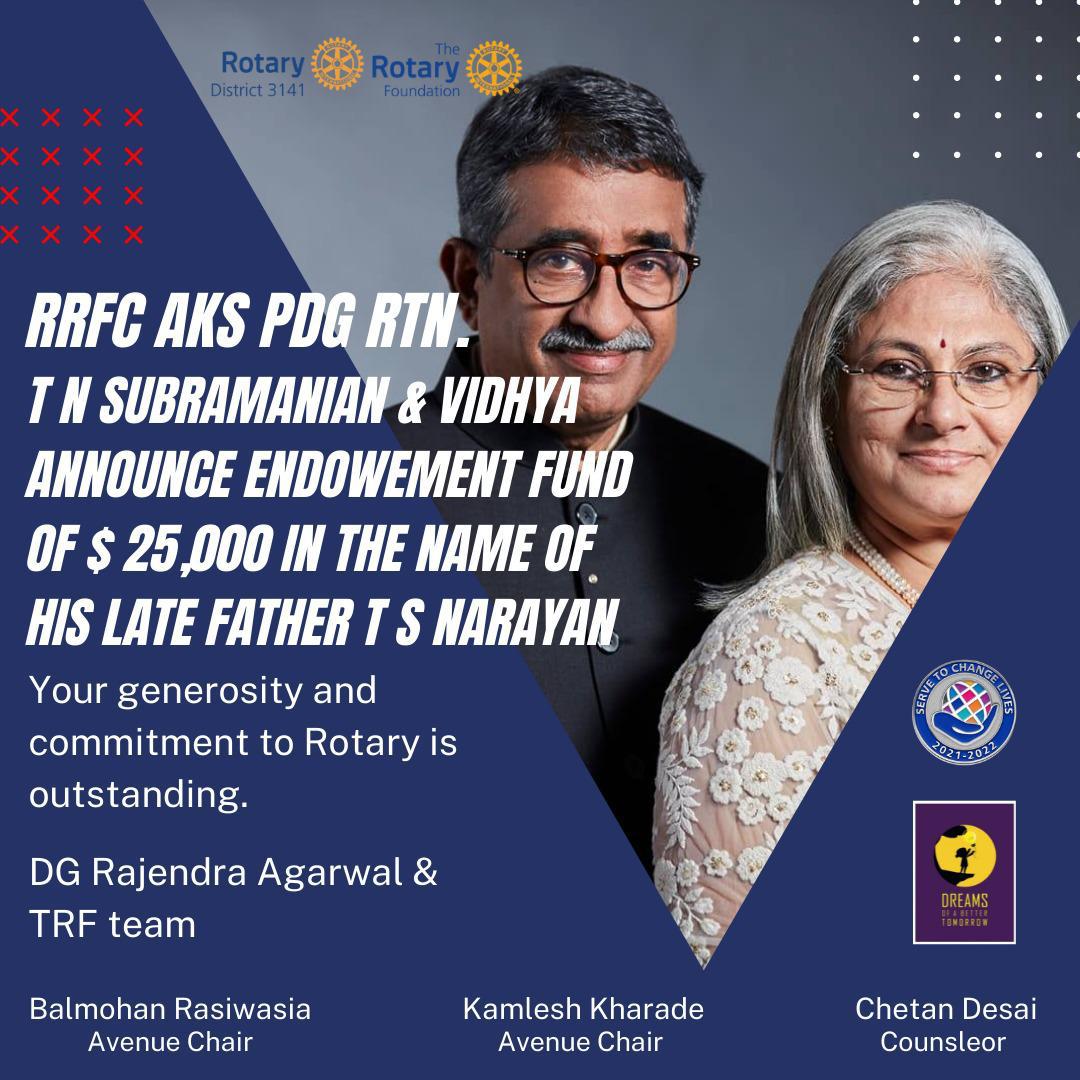 Wheel of Rotary with Endowment Fund
An Endowment Fund has been created for an amount of US$25,000. This is a great gesture by our own member and PDG Rtn T.N. Subramanian and President-Elect Vidhya Subramanian. It is this commitment to Rotary that makes it strong from the base.
By the way, Gifts to Rotary's Endowment ensure that future Rotarians will have the resources they need to design and implement sustainable projects year after year. Check more on this here – https://www.rotary.org/en/rotary-endowment
---
Knowledge Sessions in the Club
The month also saw 2 Distinguished Speakers coming and sharing their knowledge:

Suyog Kulkarni shared his insights with respect to prevention of Cyber Crime
Disha Doctor shared her insights into how her venture 'Your Space' is making a difference in the lives of people through their needs for space
---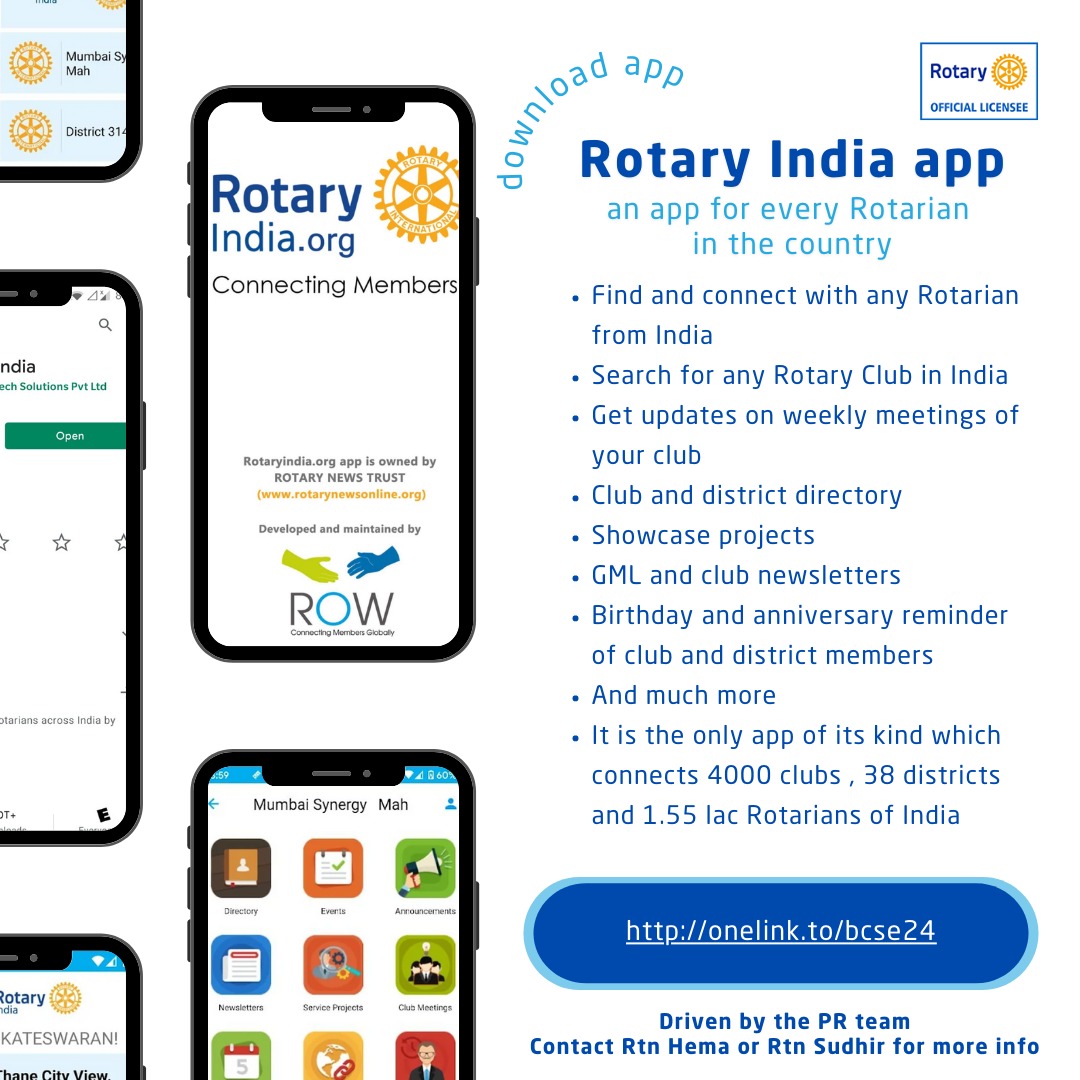 Digital for Rotarians
We encourage every member to download the Rotary app using the following link – http://onelink.to/bcse24
---
Festival Blessings
Lord Ganesha arrival festivities were celebrated at the residence of Rtn Sangeeta Shahani and Rtn Pravin Kulkarni. Visiting members thoroughly enjoyed the great camaraderie and bonding
This year Rodeos missed the vibrant presence of Late Rtn Raghunath Rajan on the occasion of Ganesh Chaturthi – it is that time of the year when he used to be in full action to ensure that Rodeos and Rotarians, across the district, visit his house to seek Lord Ganesha' blessings. It was also a month before his birthday. May his commitment to Rotary continue to inspire everyone.
---
What do you think when you read all this?
Do you think that sharing this with anyone can bring some smiles to them?
If Yes, Gift a Smile today! [Click here to share]
What are the thoughts that come to your mind?
Do take time out to share them here – they will inspire all the front line volunteers who have been putting tireless efforts to ensure that the world of tomorrow is better than today!
Be Inspired to Get Inspired!
In conclusion, John C Maxwell has rightly said
A leader is one who knows the way, goes the way, and shows the way.
Kudos to you, President Sudhir Mehta for making this happen – Rodeos are always with YOU!!
---
Cheers
Rtn Vivek Khandelwal
Director – PR 2021-22
Rotary Club of Deonar