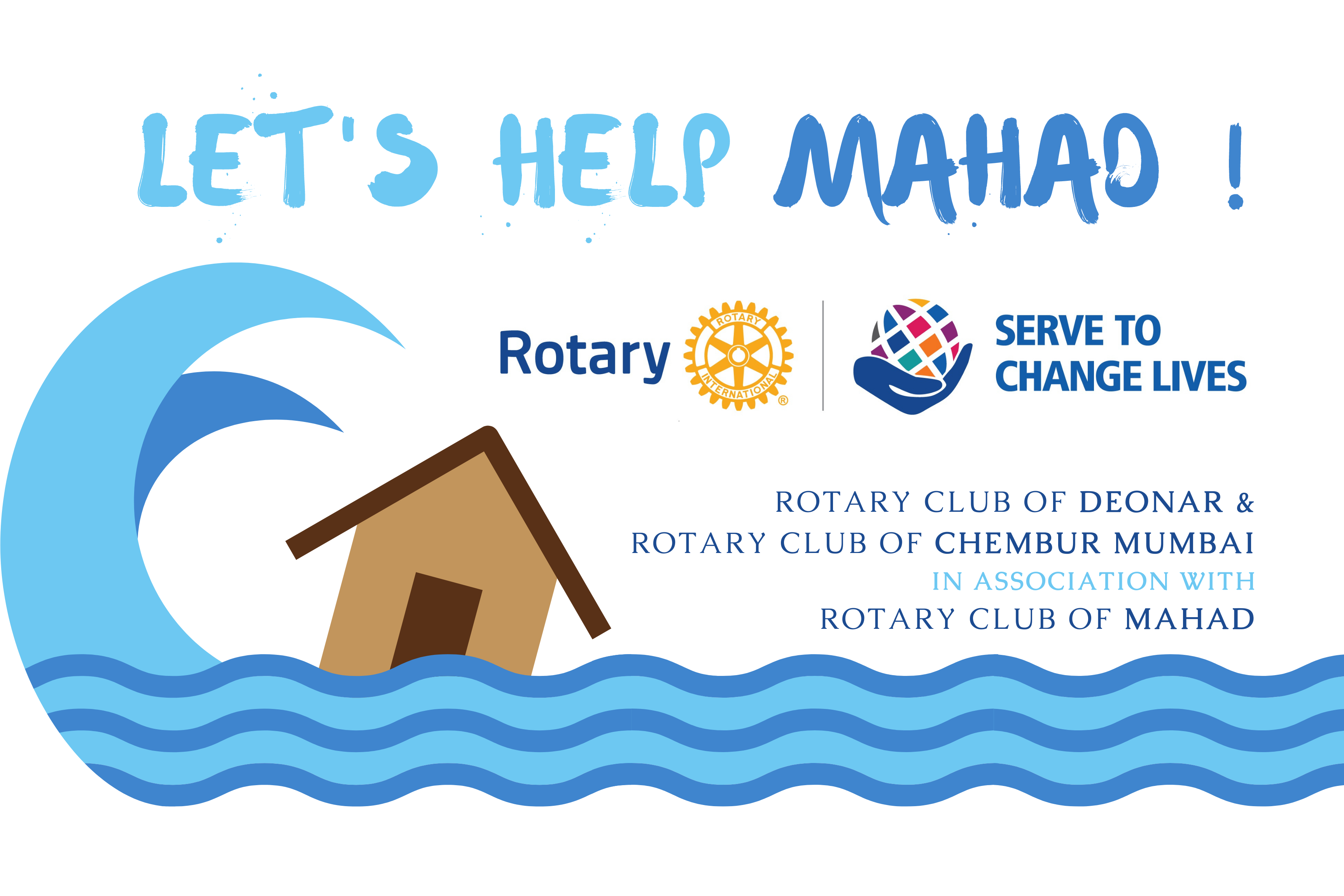 Lend a Hand, Let's Help Mahad !
Project Name: Lend a Hand, Let's Help Mahad!
Objective: To lend a hand to the economically weaker fellow citizen of Mahad town and villages around Mahad town, which were badly affected due to unprecedented heavy rainfall in the 3rd / 4th week of July 2021.
Needs Assessment: After an initial discussion with President Sudhir Mehta, Rajendra Datye & Vishnu Kamat established contact with RC Mahad (PP Dhananjay Ajagekar) & RC Pen (PP Parag Kanekar). Based on the feedback received from local rotary clubs, it was realised that the situation demanded urgent action in terms of supplying relief materials for day to day living. It was informed that there is no shortage of food, water etc. but, there is an acute need for supplies like Sholapur chaddars, blankets, plastic chatai, towels, pillows, tarpaulins, etc. Since the local Rotarians were on ground zero, it was decided that we would trust their assessment and judgement.
Lend A hand, Let's Help Mahad!
Water is the source of life however excess of it and that too in uneven means can bring one's life upside down. Something similar happened recently at Mahad in the Raigad district of Maharashtra.
What happened in Mahad from mid-July onwards was nothing less than devastating. The extremely heavy rainfall had caused havoc in several areas. Rotary Club of Deonar was observing this and decided to swing into action with the local club i.e, Rotary Club of Mahad. PP Rtn Rajendra Datye worked the entire plan with President Rtn Sudhir Mehta.
The news coming in the media spoke volumes about the pain that people were going through. In a village called Taliware, people were sitting on top of the roof. That was the intensity of water.
There were several stories that came to the surface:
People spotted crocodiles and someone even confirmed that one fallen individual had become a victim of this.
Roads and houses were washed away
Even the affluent class of Mahad had water in their houses and offices.
Let's go deeper to know this place:
Mahad is an industrial town and a municipal council in the Raigad district of Maharashtra.
Big Pharma companies have their plant there
It has been popularly known as the land of freedom fighters since many originated from this geography.
It has a number of places that attracts tourist visits.
The total population would be closer to 2 lacs
Based on the feedback received from local rotary clubs, it was realised that the situation demanded urgent action in terms of supplying relief materials for day to day living of the people.
A detailed assessment was done jointly to analyse and understand what ways this support could be extended. PP Rtn Dhananjay Ajagekar of RC Mahad was pretty much aligned to the ground on what has happened and what was truly required.
It was learned that there is no shortage of food, water etc. but, there is an acute need of other supplies like Solapur chaddars, Blankets, Plastic chatai, Towels, Pillows, Tarpaulins etc. Since the local Rotarians were on ground zero, Rotary Club of Deonar members popularly known as 'Rodeos' decided to trust the local assessment and judgement to take immediate action.
The members of the club opened their arms to contribute in a free-flowing manner. Someone has rightly said, 'If there's a right cause, the solution automatically comes'.
The total requirements received were lesser than the donation we already had in place for this project. The team swung into action and initiated the procurements. For this, the team had to identify the right vendor and also the quality of the product that could be sent to them. Several man-hours and physical visits were done to the vendor's location to check the quality of the products being procured.
Our help to 200+ families majorly went in the outskirts of the town and few pockets of the main town were also supported.
We extended the entire project with a 2nd round when even 500 dry ration kits were also sent to Mahad. For this, Rtn Dhananjay even went to the Gram Panchayat to get the list of the people to ensure that the ration kits could be appropriately distributed.
This extended project took another 4 days for execution since RC Mahad made 2 separate teams and also checked relevance and the need while distribution.
The impact of the project was such that even our neighbouring club, Rotary Club of Chembur also came forward and contributed. Support always makes the project bigger and that's what happened for this initiative as well.
What made our conceptualised initiative a super success was the following:
Great support by our partnering clubs. This made execution truly flawless since meaningful action was done jointly with the local knowledge.
Rodeos receiving all the procured items, storing it, prioritising the delivery, arranging local transportation and ensuring that club members travel up to Mahad to ensure the beneficiaries are rightfully supported.
The active support of our Youth Wing i.e., Rotaractors ensured that we were full of energy right till the support went to each and every beneficiary since they travelled up to Mahad and participated in actual distribution together with Rotary Club of Mahad club members.
The travel from Mumbai to Mahad one way was around 6.5 hours and there were no hotels and lodges for our Rotaractors to stay. All the support was extended by Rotarians in the villages en route back to Mumbai.
Each item procured was keeping the need in mind and as per the prior engagement with the local clubs. This ensured that we played the role of not being the excess but being the bridge and helping what was required.
The total man-hours invested in the project were around 375 hours.
In the words of Rtn Vishnu Kamat who takes pride in being a front runner, it was an extremely satisfying and really fulfilling exercise. He feels delighted to have connected with so many Rotarians in and around the Mahad area as well.
Sitting in Mumbai, we had the power to extend our hand 250 km away in an area that was in dire need of this. I feel this is the power of Rotary. It is this brotherly feeling that one can easily trust another club since the values and ethos of the organisation is so strong. Sending money and goods becomes much easier when you know that your partner on the other side carries a mindset similar to yours.
Rotary truly addresses the need to get the right connection when you most truly desire.
Thanks, Rotary. We lived by the message… Serve to Change Lives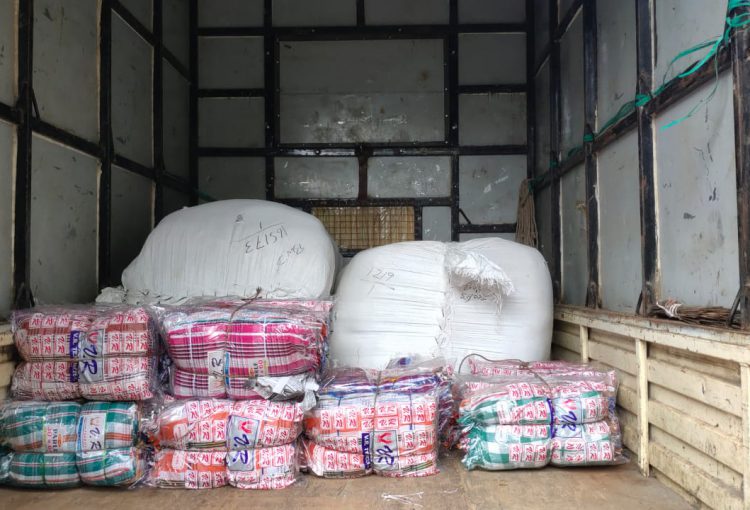 Rtn. Dhananjay of RC Mahad guided us to distribute the flood relief materials to the needy people of the affected areas and villages around Mahad.