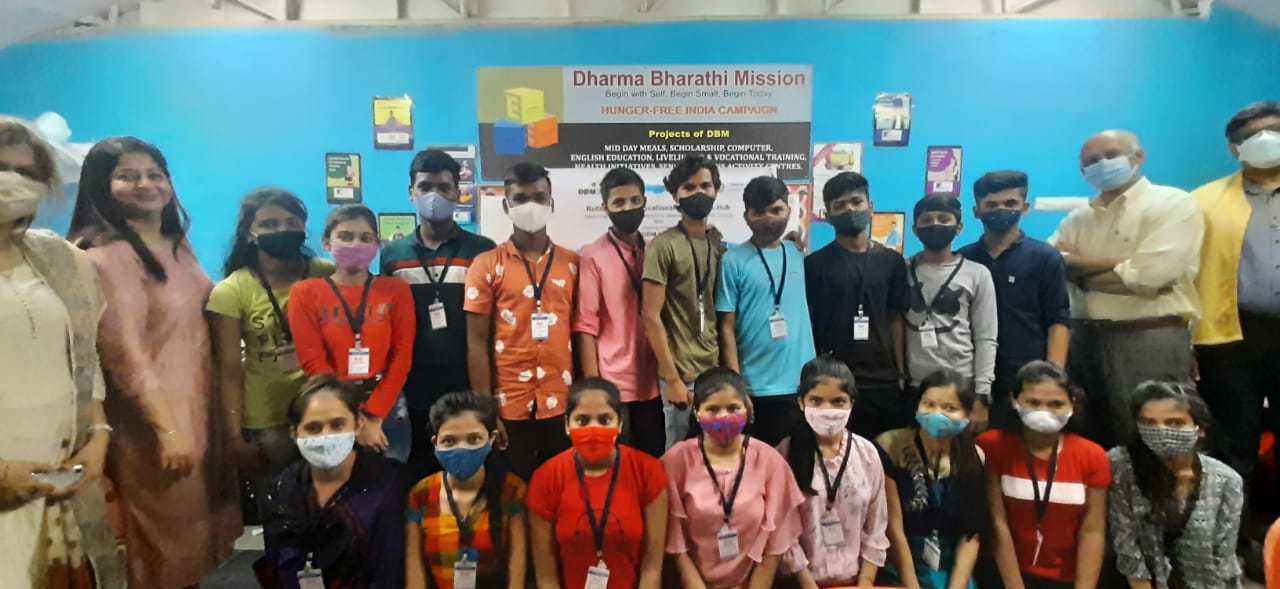 IT Literacy course for SSC pass students: MS-CIT
Project Name: IT Literacy course for SSC pass students: MS-CIT
Project Date: 27th July 2021
Project Cost (Rs.) : 1,00,000 + 1,150 (Admin)
The area where the Project has been executed: Abhinav Gyan Mandir School, Trombay
No. of Beneficiaries: 40 students
District Grant/Global Grant/RCC/Rotaract/Interact/Others: No
Members Present: President Rtn. Sudhir Mehta, Rtn Jhankar Gadkari, Rtn. Alka Murli
Total Attendees: 40 students
Training Partner – DBM India
Comments received from the Partners/ Beneficiaries: The teachers and the students are very excited with the prospect of getting this training done while they are waiting for the results and further admissions. There was a tremendous response from students. We had to close registrations in a single day. We have registered 40 names and more than 70 are on waitlist.
No. of Photos Attached – 8
Past Background/History of the Project: This was the first time we have initiated such IT literacy training for SSC students.
Detailed Description:
Vocational Service Avenue launched the basic skills training program for students who just cleared their SSC exam. MS-CIT is the IT literacy course that will help them in their higher studies as well as in their career afterwards.
The Maharashtra Government conducted course will provide them with digital capabilities that will give them a distinct edge as they enter college for higher education. MS-CIT  course teaches them a number of IT-related knowledge, skills and apps which will be useful in making them proficient, competent and confident while pursuing higher education.
MS-CIT course concepts focus on:-
Microsoft Windows 7 operating system
Use of the Internet for Daily Chores
MS-Word 2013
Introduction to Basic Hardware and Networking Concepts
Excel 2013
MS PowerPoint 2013
MS Outlook
Using Applications like Notepad, WordPad, Sticky Notes, Windows Games
ERA Theory
The benefits of this course for the students:
The 2 monthly course makes the students digitally savvy and proficient in standard computer applications
The proficiency makes them on par with other students they will meet at colleges
As most of the admissions and college transactions are online, they are able to do it efficiently, without anyone's help
The new-found capabilities also make them recognise & value their worth and are able to pursue their education better
This being a Government Certificate, has a lot of value and is an added qualification.
If they have to earn their living due to family constraints, they can get a job at the entry-level in offices/small businesses.
20 students started the course on 27th July'21 and the other 20 will start on 9th August'21. On completion, they will get a certificate from MKCL (Maharashtra Knowledge Corporation ltd.) This certificate is an additional qualification while applying for government jobs and also for teachers in government/ private schools.
Rotary Club of Deonar's President Rtn Sudhir Mehta inaugurated the program by cutting the ceremonial ribbon and Rtn Jhankar Gadkari addressed the children. Our training partner is DBM India, which is an NGO working primarily in M Ward, in skilling  & empowering children.
By Project Lead – Rtn Alka Murli