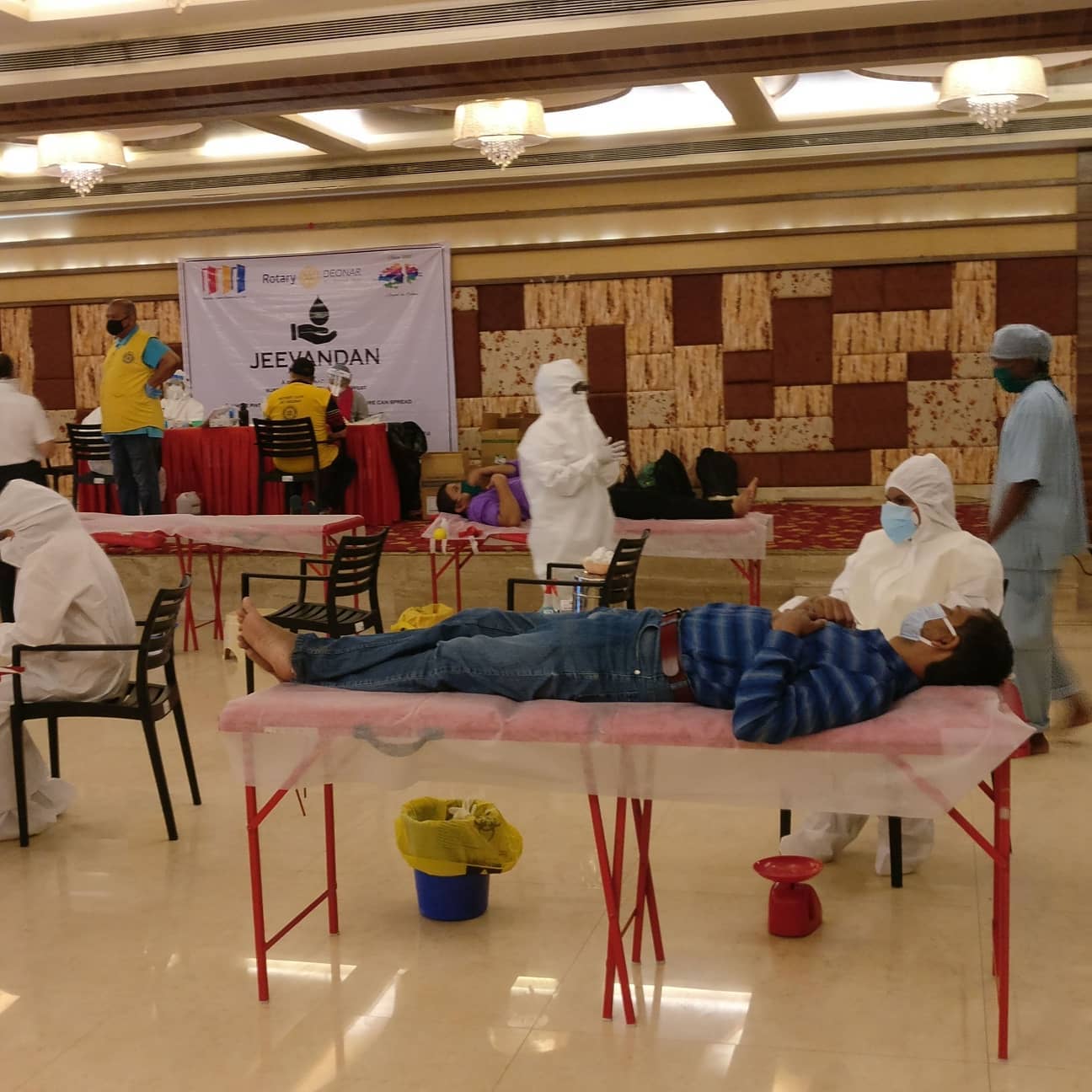 Musculoskeletal Camp
The activity of these camps is going on since the last 15 years. Initially till 2002 we used to do these activity on our own. These camps mainly used to be in the konkan areas.
After 2002 we started working under the Rotary banner and the India National Polio plus Committee and the scope of our activity increased. We started doing these camps in uttar Pradesh in areas like Chandausi, badayun, Moradabad Gajraula etc. parallel we were also doing this activity in Barshi, Pandharpur and konkan. During the activity we met many like minded people who have helped us a lot and given us new areas to work on.
Initial camps especially those in Uttar Pradesh were funded by the Rotary. But subsequent all the camps are self funded. Funds arranged jointly by Rotary club of Deonar and Ambarnath in Mumbai and Rotary club of Coventry Phoenix in U.K. Also local associations and individuals help us in kind or monetarily. Organizations like Prashant paricharak social foundation and local rotary clubs help us in local networking, hospitality and many small needed issues.
This concept of polio corrective and deformity correction was originally a brain child of Dr. Joy Patankar of Mumbai. He started doing them on his own initially and then subsequently formed a team. Unfortunately, Dr. Joy passed away in 2006 but we still continue to do this activity and have named our activity as "Dr. JoyPatankar Memorial Musculoskeletal deformity Correction Camp".
Our association with Dr. John of U.K. was because of Dr. Joy. He first came to see the activity in the camp. He liked the concept and the work that we were doing that he started coming to each camp. Subsequently he started helping us financially also. Everytime he comes he gets few trainees with him for observership. For those trainees who come for the camp they get a lifetime of an experience. Dr. john has been a great since his association with our camps.
The approximate expenditure of each camp is 3 to 3.5 lakhs
The modus operendi for the camp is standard. Whenever a new place is selected for the camp activity we go there before hand to see the place and make a survey. We meet the concerned local people and see the infrastructure available locally. After we are assured of the pre camp responsibility and the infrastructure is upto our expectation then we agree on the venue. The responsibility of the Pre camp evaluation and publicity is left on the local support. We then finally screen the patients during the camp and select them for surgery. Post surgery patients are kept for minimum 2 days. During the entire camp the food for the patients and the relatives of the patients staying with them is given from our side. On discharge medicines to be taken at home are given by us.
The follow up dressing and the change of plaster is done by the local Orthopaedic surgeon who is known to us and who has worked with us. For the final plaster removal and instructions to the patients we ourselves go at a date approx 6 to 8 weeks from the day of the camp.
We have had wonderful experiences of patients who have benefitted from the surgery. Two or three occasions are worth remembering—once in Uttar Pradesh camp a girl of about 18 dressed in saree came to visit us in the camp with a man and gave us flowers and sweets. This girl was operated in our camp two years before. At that time she had her knee bent and walked by holding the knee with her hand. After surgery her knee was straightened out and she could walk without bending and putting her hand to the knee. And this year she had got married and the man was her husband and she had come to thank us for her dramatic change in her life.
All these experiences have been truly gratifying and sometimes bring tears to eyes. Not only treating patients is satisfying but these camps have given opportunity to meet so many new people who have become our friends for life whom we would have never met otherwise,
To date we must have screened about 25000 patients and operated on more than 5500 patients.
Currently we have been doing this activity at SPARSH hospital Sastur dist. Osmanabad. We have completed three camps in Sastur and the experience has been great. The team at the SPARSH hospital is very efficient and co-operative. Our going to Sastur is because of the efforts of Shri. Umesh Paricharak of pandharpur.
We had been to Gadchiroli for our camp in last September. This was because of Hon. Home minister of Maharashtra Shri. R.R. Patil who saw our work at pandharpur and wanted to do this activity at Gadchiroli. As per our protocol we first went to visit Gadchiroli, had a meeting with Civil surgeon and the collector and the CEO o the Zilla parishad and then finalized our camp. Our experience in Gadchiroli was good with no untoward incidence. We felt that there is need for this activity there but we need some back up from authorities there as it is a sensitive area