Onam Celebration Aug 2021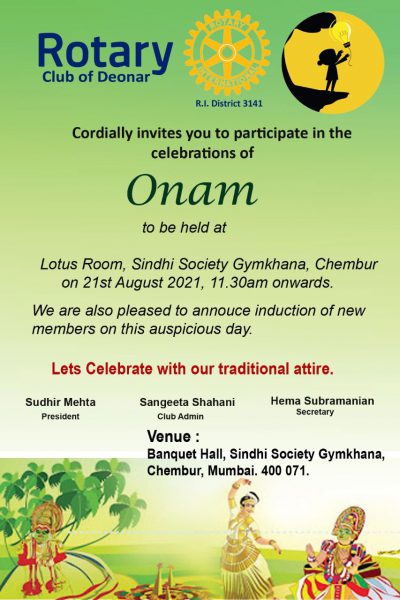 Onam is the harvest festival of Kerala celebrated immediately after the onset of Monsoons. It is a secular festival celebrated by all Malayalees. Onam also refers back to the mythological story of King Mahabali who ruled Kerala and was given a high pedestal by Lord Mahavishnu in Vamana Avataram. Vamana gave King Mahabali a deserving boon for his pious and devoted conduct that he could visit his Kingdom every year during Onam and meet his subjects. Since then Onam is celebrated with great pomp and all Keralites welcome their beloved King Mahabali with decorations. The cultural celebrations include folk dances, Pulikali, ottamtullal, Boat races etc.
At the Rotary Club of Deonar, Onam was celebrated with Kaikottikali a traditional folk form of dance by students of Shanmukha Arts led by Smt Kala Srinivasan. Few other classical dances invoking blessings of Lord Ganesha and Lord Krishna were also presented by the students.