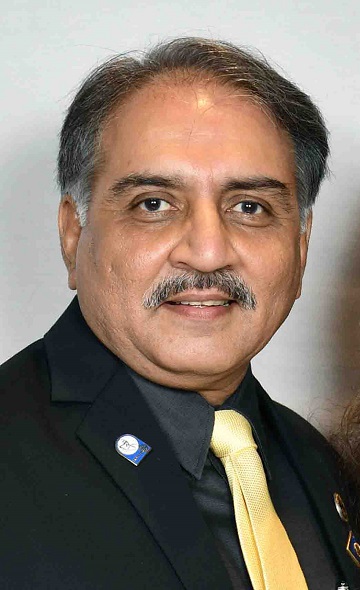 DG – Sunnil Mehra 2020-21
DG 2020-21 Sunnil Mehra hails from an illustrious textile family that migrated from Lahore and Amritsar to Mumbai in 1940.   His parents had roots in Punjab and were involved in the freedom struggle. His Grandfather Harichand Mehra pioneered the art of fabric screen-printing in India.
He was born in the Holy city of Amritsar on the 9thMay 1956. He did his schooling from Campion School and his graduation from KC College.
Obtained a textile diploma from Sasmira, Worli and completed his further education as a polymer technologist from Bagubhai Mafatlal, Vile parle.
He has been a keen sportsman having played cricket and badminton at school, College and also at National Level
He started his business career by setting up a separate art silk unit for fabric weaving. After running it successfully he diversified into Marketing and Distributorship.
Today he is the MD of KorpBiz Pvt Ltd and Brand Ideation Pvt Ltd, which deals with manufacturing and marketing of various packaging products in wood, paper, plastic and acrylic.
He is the recipient of:
THE ROTARY FOUNDATION DISTRICT SERVICE AWARD in the year 2008 -09  RI AWARDS OF MEMBERSHIP DEVELOPMENT AND EXTENTION 2008-2009;  RI AWARD FOR EXCELLENCE IN DISTRICT LITERACY – 2008-2009; RI AWARD FOR EXCELLENCE IN ZONAL LITERACY – 2008-2009; RI AWARD FOR EXCELLENCE IN COMMUNITY SERVICE 2008-2009.  CLUB BUILDER AWARD 2014-15;  THE ROTARY FOUNDATION DISTRICT SERVICE AWARD in the year 2014-15  And the highest award given to any Rotarian SERVICE ABOVE SELF AWARD in the year 2015-16;
Sunil has served on the District in every Governors team from 2009 onwards as Avenue Chair for the Differently Abled, Avenue Chair for Youth Services, District Secretary, Avenue Chair CSR, Literacy Chair, Governors Special Aide, Assistant Governor, Functional Chief Co-ordinator   and is the District Governor for 20-21.
He has been a speaker at various Rotary and non-Rotary meetings.
He pioneered Annapoorna in the year 2014 -15, a way to fight hunger under which over 1,60,000 people were fed. This was replicated in the year 2016-17 under which 60,000 were fed again.
His dream project is to make the entire Rotary district 3141-Disabled Friendly, which will allow the Disabled and the Elderly to move around with dignity. He also sponsored a Differently Abled Garden at Kamala Nehru Park, Malabar Hill, Mumbai.
He chartered the Rotary Club of Mumbai Lakers and was the GSR of RC Mumbai Chandivali and RC Millenials.
He organized the first CSR seminar of 3140 in which 150 corporates attended and pledged their support to our district.
He is happily married to Shilpi, a Rotarian and an Inner wheel member. She is also Past President of RC Mumbai Lakers and RC Bombay Pier. They are Major Donor Couple Level Two. Both are very motivated towards community service and to give back to society, having both done large and impactful Projects.
They are blessed with three children. Shradha married to Nirav Virani and blessed with two grandchildren Avika and Nivaan. Their daughter Aishani has done her Graduation in Multi Media &  computer  science and is currently working in the family business and son Sukrit, who has completed his BTech in USA.
Sunnil claims his blood group is R+, which means Rotary positive as he is sure service flows in his blood.